Apple, Cheese & Walnut Mini Panini
Automne 2014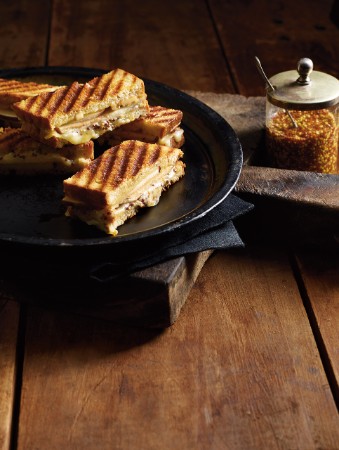 Apple, Cheese & Walnut Mini Panini
Automne 2014
BY: Jennifer MacKenzie
These petite paninis are full of flavour—tart-sweet apples, zesty cheese and toasted walnuts, all between buttery, grilled bread—and make for a fun appetizer. A tart-sweet apple that holds the flavour when cooked, such as Spartan, Empire or Idared, is best. Use Granny Smith for a more tart taste. Choose a pungent cheese with a nutty flavour and good melting texture. Some Canadian cheeses to try are Gun's Hill Five Brothers, Niagara Gold or Louis d'Or; or try imported Swiss Appenzeller or Gruyère.
2 tsp (10 mL) butter, softened
2 tsp (10 mL) vegetable oil
4 slices sourdough or light rye bread (see TIP)
1 tbsp (15 mL) grainy mustard
4 oz (125 g) nutty-flavoured melting cheese, thinly sliced
1 Spartan, Empire or Idared apple, thinly sliced
2 tbsp (30 mL) chopped toasted walnuts
1 Preheat panini grill or a grill pan over medium heat.

2 Mash together butter and oil in a small bowl until well blended. Spread evenly over one side of each bread slice.

3 Spread mustard evenly over unbuttered side of 2 of the bread slices. Arrange one-quarter of the cheese evenly over the mustard on the 2 slices. Top with apple slices and sprinkle with nuts. Top with remaining cheese, dividing equally. Sandwich with remaining bread slices, buttered side out.

4 Place in panini grill or on grill pan (reduce heat to medium-low if using grill pan) and cook for 3 to 4 minutes, pressing down on the sandwiches, or until bread is toasted and golden and cheese is melted.

5 Transfer to a cutting board. Let cool for 1 minute. Cut each sandwich into 3 pieces or about 6 triangles.
SHARE