Ale-Braised Cheese Dip with Caramelized Onions & Maple Bacon
Été 2013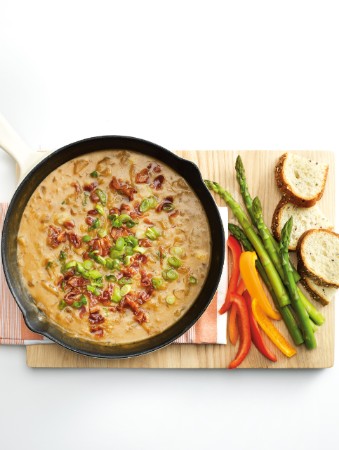 Ale-Braised Cheese Dip with Caramelized Onions & Maple Bacon
Été 2013
BY: Ruth Gangbar
If desired, make dip ahead and reheat later on the grill. Leftovers? Spread onto toasted bread and heat until melted under a broiler, or melt spoonfuls over grilled burgers, adding additional green onions, chives or parsley for topping.
2 medium yellow onions
2 tsp (10 mL) vegetable oil
2 cups (500 mL) grated Canadian cheddar cheese (or about 7½ oz/225 g) such as Black River Cheese's old cheddar
1 tbsp (15 mL) all-purpose flour
¼ tsp (1 mL) cayenne pepper
1½ cups (375 mL) Beau's Lugtread Lagered Ale
1 tsp (5 mL) Dijon mustard
½ cup (125 mL) white cheese curds, finely chopped
4 smoked bacon slices, cooked and finely crumbled
2 green onions, finely chopped
2 tbsp (30 mL) pure Ontario maple syrup
1 Peel onions and cut into ¼-inch (5-mm) slices.

2 Heat oil in a 9-inch (23-cm) cast iron or heavy-bottom skillet on medium heat; add onions, stir to coat in oil, and cover. Cook for about 15 minutes, stirring occasionally, until onions are evenly browned and softened. In a large bowl, combine cheddar, flour and cayenne.

3 Add ale and Dijon to onion in skillet, stirring to heat through. Stir half the cheese mixture gradually into the warmed ale; stir until cheese is melted but not boiling. Add remaining cheese mixture and cheese curds; continue stirring until melted, with a few visible chunks of curd remaining. Remove from heat.(Recipe can be prepared ahead to this point and reheated on the sturdy upper shelf of a preheated BBQ grill, stirring occasionally for 8 to 10 minutes or until just melted.)

4 To serve, sprinkle top of cheese mixture in skillet with bacon and green onion; drizzle with maple syrup. Place hot skillet onto a large cutting board, along with thick slices of grainy bread, blanched asparagus, broccoli and sweet pepper strips for dipping.
Serves 8 to 10, but recipe halves easily
SHARE