Zucchini, Tomatoes & Herbs
Printemps 2016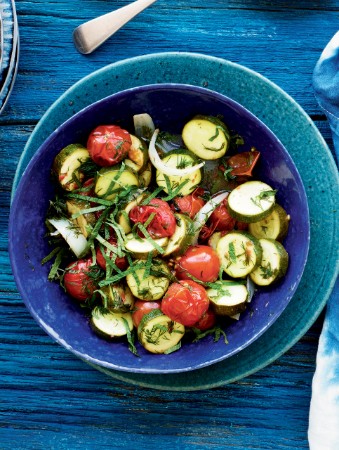 Zucchini, Tomatoes & Herbs
Printemps 2016
BY: Christopher St. Onge
This quick and delicious side dish perfectly captures the Greek way with vegetables. It begins with nothing fancy, an economy of ingredients and steps, but results in heaps of bright fresh flavour.
2 tbsp (30 mL) olive oil
1 onion, sliced
4 medium zucchini, about 2 lbs (1 kg), cut into ¼-inch (5-mm) thick rounds
Salt and freshly ground pepper to taste
¼ cup (60 mL) white wine vinegar
1 tsp (5 mL) sugar
24 cherry tomatoes
⅓ cup (80 mL) lightly packed chopped dill
¼ cup (60 mL) lightly packed mint leaves, sliced
1 Heat oil in a large, high-sided skillet over medium heat. Add onion and cook for 3 minutes, or until translucent. Stir in zucchini, season generously with salt and pepper, and cook, stirring from time to time, for 10 minutes or until tender-crisp.

2 Pour vinegar over, sprinkle with sugar, and cook, stirring, until most of the liquid has evaporated, about 2 minutes. Add tomatoes to pan, toss to combine, cover and cook 5 to 7 minutes or until zucchini are tender and tomatoes have just burst.

3 Remove from heat, stir in dill and turn out onto a platter or shallow serving bowl; sprinkle with mint.
SHARE