Zucchini Tart with Feta and Mint
Summer 2008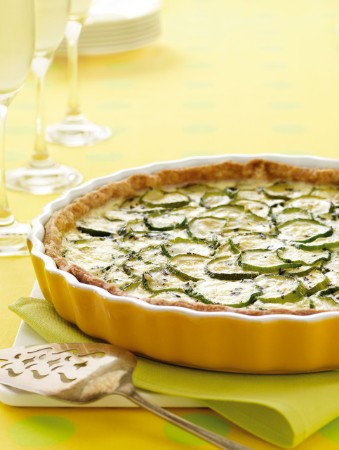 Zucchini Tart with Feta and Mint
Summer 2008
BY: Eshun Mott
The bright flavours of this pretty tart make it especially fine for brunch.
2 tbsp (25 mL) unsalted butter
2 medium zucchini (10 oz/300 g), sliced into rounds ⅛ inch (3 mm) thick
1 tsp (5 mL) chopped garlic
2 tbsp (25 mL) chopped mint
Salt and freshly ground pepper
1 large egg
1 large egg yolk
¾ cup (175 mL) 18% cream
3 oz (90 g) feta cheese, crumbled
One 9-inch (23-cm) tart shell, partially baked
1. Preheat oven to 350°F (180°C).

2. Melt butter in a frying pan over medium heat. Add zucchini, and sauté for 3 minutes or until beginning to soften. Add garlic and stir to combine. Turn heat to medium-high and continue to cook for 1 minute or until zucchini is just cooked through and juices have evaporated. Remove pan from heat, stir in mint, season with salt and pepper to taste, and set aside.

3. Beat egg with cream until uniform. Season with salt.

4. Sprinkle feta cheese over prepared tart shell. Pour over half of egg mixture. Add zucchini mixture in an even layer and pour over remaining egg mixture.

5. Place tart on a baking sheet and bake in the lower third of the oven for 30 to 35 minutes or until set and lightly golden. Let cool for 10 minutes before serving.
SHARE