Zucchini Slaw
Holiday 2008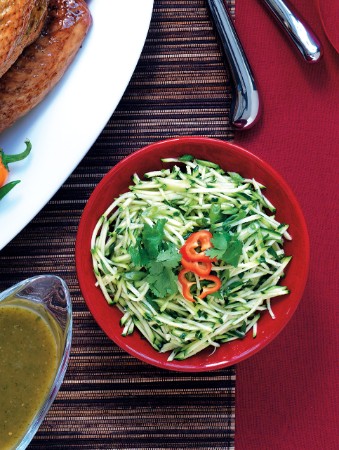 Zucchini Slaw
Holiday 2008
BY: Lucy Waverman
Julienne in the food processor with the grating blade or on a mandolin.
4 small zucchini, unpeeled, julienned
2 green onions, slivered
1 tbsp (15 mL) wine vinegar
Fresh pepper
1 tsp (5 mL) chopped dried tarragon or 1 tbsp (15 mL) fresh
1 tsp (5 mL) chopped garlic
¼ cup (50 mL) olive oil
Salt and freshly ground pepper to taste
2 tbsp (25 mL) chopped coriander
1. Place zucchini and onions in bowl. Blend vinegar, tarragon and garlic in food processor or mini-chop. Drizzle in olive oil while machine is running.

2. Pour over zucchini and toss. Season with salt and pepper to taste.

3. Sprinkle with coriander.
SHARE