Zucchini Lemon Cakes
Early Summer 2014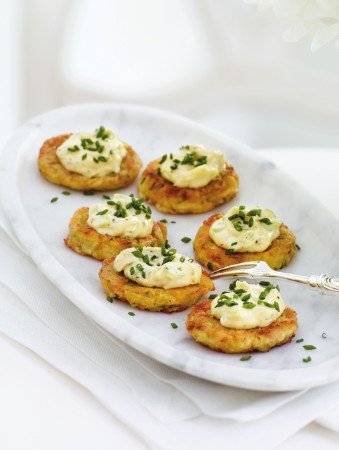 Zucchini Lemon Cakes
Early Summer 2014
BY: Monda Rosenberg
Fortunately, zucchini are inexpensive and never hard to find. These charming canapé cakes make the most of their fresh garden flavour, and the addition of lemon zest kicks up the taste. This recipe is easy to halve if you are having a small party.
2 thin small zucchini
Finely grated peel from 2 lemons
2 large eggs
½ cup (125 mL) milk
1 cup (250 mL) all-purpose flour
1 tsp (5 mL) salt
½ tsp (2 mL) ground nutmeg
2 cups (500 mL) grated old orange cheddar, loosely packed
Canola oil for frying
1 jar (200 mL) Béarnaiseor hollandaise sauce
Thinly sliced chives or green onions or fresh tarragon
1 Trim ends from zucchini but don't peel. Grate zucchini in a food processor using the grating attachment. Without packing, measure out 2½ cups (625 mL) and place in a bowl. Slowly add lemon peel while stirring. Set aside. Whisk eggs with milk in a medium-size bowl. Gradually stir in flour, salt and nutmeg. Stir in cheese until evenly mixed, then stir in zucchini and lemon. You may have to knead with your hands.

2 Generously cover the bottom of a medium-size skillet with oil. Place over medium heat. When hot, scoop up a scant tbsp (12 mL) of batter. Drop into the hot oil and gently flatten into a cake about 2 inches (5 cm) in diameter. Repeat with 3 more cakes. Cook 20 to 25 seconds, until the underside is golden. Using a firm spatula, turn and cook until the other side is browned, another 20 to 25 seconds. If cakes rapidly brown, lower the heat because you want them to cook through in the centre. Remove to a paper-towel-covered baking sheet. Repeat with the remaining batter, adding more oil to the pan when needed and stirring the remaining batter from time to time.

3 If making ahead, place in a covered container, separating layers with waxed paper, and refrigerate up to 3 days, or freeze up to a month. Reheat cold or frozen cakes on a baking sheet in a preheated 350°F (180°C) oven about 5 minutes a side for cold cakes or 10 minutes a side for frozen cakes.

4 To serve, spoon Béarnaise sauce into a bowl and stir in chopped chives to taste. Serve warm cakes topped with a dollop of sauce. Sprinkle extra chives on top, if desired.
SHARE