Zucchini Fritters with Roasted Tomatoes
Autumn 2010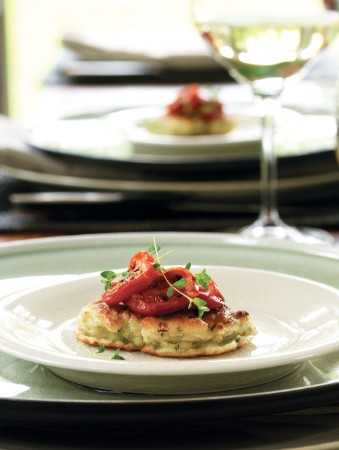 Zucchini Fritters with Roasted Tomatoes
Autumn 2010
BY: Jennifer MacKenzie
Fritters make a nice change from the usual canapés and when you make them with fresh zucchini and tomatoes, you can't go wrong. You can cook the fritters up to a day ahead, let them cool then wrap and refrigerate them. Reheat fritters on the rack set on the baking sheet in a 350°F (180°C) oven for 10 to 15 minutes just before serving with warm or room temperature roasted tomatoes. Sprigs of fresh herbs are all you need for garnish.
Roasted Tomatoes
2 cups (500 mL) grape tomatoes, cut in half
lengthwise
2 cloves garlic, minced
1 tbsp (15 mL) olive oil
Salt and freshly ground pepper

Zucchini Fritters
1½ cups (375 mL) all-purpose flour
½ tsp (2 mL) baking soda
½ tsp (2 mL) salt
¼ tsp (1 mL) freshly ground pepper
2 eggs
¾ cup (175 mL) plain yogurt
1½ cups (375 mL) shredded zucchini,
approximately 1 zucchini
1 tbsp (15 mL) chopped fresh herbs (basil,
oregano, tarragon, thyme, parsley and/or sage)
Vegetable oil
1. For the roasted tomatoes, preheat oven to400°F (200°C).

2. Line a rimmed baking sheet with parchment paper. Combine tomatoes, garlic and oil in a bowl and season to taste with salt and pepper. Place, cut-side up, on baking sheet. Roast for about 25 minutes or until browned. Transfer to a bowl and let cool to room temperature.

3. For the zucchini fritters, preheat oven to300°F (150°C). Place an ovenproof cooling rack on a large baking sheet and place in the oven.

4. Combine flour, baking soda, salt and pepper in a large bowl. In another bowl, using a fork, whisk together eggs and yogurt. Stir in zucchini and herbs. Pour over flour mixture and combine with a fork just until evenly moistened.

5. Heat a large nonstick skillet over medium heat. Pour in a thin layer of oil and swirl to coat pan. Drop a heaping tbsp (15 mL plus) of batter for each fritter into pan, being careful not to crowd the pan, and flatten slightly. Cook for about 3 minutes or until dry around the edges and bottoms are browned. Flip over and cook for about 3 minutes until browned and cooked through. Transfer to rack in the oven. Repeat with remaining batter, adding more oil and adjusting the heat as necessary between batches.

6. Top hot fritters with roasted tomatoes and place on a serving platter.
SHARE