Za'atar-Spiced Lentil Soup
Holiday 2019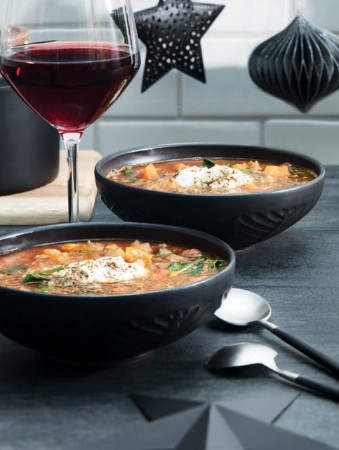 Za'atar-Spiced Lentil Soup
Holiday 2019
BY: Heather Trim
Lentil soup is eaten around the world as it is wholesome, inexpensive and easy to make. If you're looking for a complete meal soup, this one checks all the nutrition boxes. It is loaded with fibre, protein and lots of vegetables too. If you don't have celery in the fridge and know you won't eat a bunch, simply skip the celery. But many supermarkets these days sell the individual stalks, so you can just buy a few.
1 tbsp (15 mL) olive oil
1 each carrot, onion and celery stalk, diced
2 cloves garlic, minced
4 tsp (20 mL) za'atar
4 cups (1 L) water
1 can (398 mL) whole or diced tomatoes
¾ cup (175 mL) dried red lentils, rinsed
½ tsp (2 mL) salt
2 cups (500 mL) baby spinach leaves
2 tbsp (30 mL) lemon juice or red wine vinegar
½ tsp (2 mL) hot pepper sauce or to taste
Plain yogurt, optional
1 Heat oil in a large pot over medium heat. Add carrot, onion and celery. Cook about 4 minutes just until tender. Stir in garlic and za'atar.
2 Add water. Crush tomatoes as best you can, using your hands or a potato masher, before adding to pot. Add lentils and salt; stir. Bring to a boil, then cover, reduce heat and simmer 15 minutes until lentils are very soft. Stir in spinach; cook just until wilted, about 1 minute. Add lemon juice, hot sauce and more salt if needed.
3 Ladle soup into bowls. Dollop with plain yogurt, a drizzle of olive oil and a sprinkle of za'atar.
Makes 6 cups (1.5 L) for 4 servings
SHARE