Winter Paella
Holiday 2017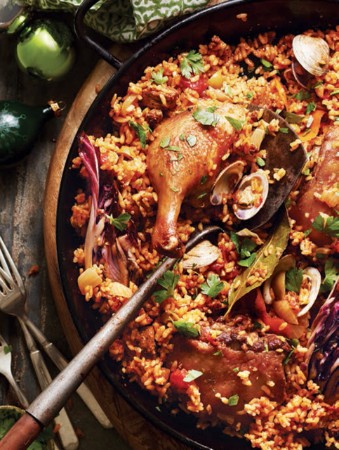 Winter Paella
Holiday 2017
BY: Tonia Wilson-Vuksanovic
This is a hearty winter-style paella with complex deep flavours coming from the duck and chorizo. Radicchio adds a welcome bitter counterpoint to the dish's richness.
2 pinches of saffron, about ½ tsp (2 mL) loosely packed
1 cup (250 mL) warm water
2 tbsp (30 mL) olive oil
3 whole duck legs, about 1¾ lbs (875 g) total, split at the joint between leg and thigh
1 head of radicchio, cut into 8 wedges (keep core intact so wedges don't fall apart)
⅔ lb (350 g) fresh chorizo sausages, casing removed, sliced into ½ inch (1 cm) pieces
1½ cups (375 mL) Spanish onion, coarsely chopped
2 tbsp (30 mL) garlic, finely chopped
1 tbsp (15 mL) Spanish paprika
2 cups (500 mL) short-grain rice, such as Arborio or calrose
½ cup (125 mL) dry white wine
1 cup (250 mL) canned, diced tomatoes
1 bay leaf
3 thick strips of orange zest, removed from orange with a vegetable peeler
¼ cup (60 mL) pitted green olives, coarsely chopped
6 cups (1.5 L) chicken stock
½ lb (250 g) fresh clams, or at least 18 total, rinsed clean
2 tbsp (30 mL) fresh parsley, finely chopped
1. Steep the saffron in 1 cup (250 mL) warm water.

2. In a paella dish or large shallow pan, heat oil over medium and brown the 6 pieces of duck on both sides, about 15 minutes. Set aside on plate.

3. Add radicchio to the remaining fat in the pan and cook until wilted, about 3 minutes per side, gently turning radicchio so it retains its shape. Set aside with duck.

4. Add sausage and onion and cook over medium-high for 15 minutes until sausage is browned and onions are translucent.

5. Add garlic and paprika to pan and cook for 1 minute; add rice and stir well to coat with oil. Add wine, stir and reduce for 1 minute.

6. Add tomatoes, saffron and its steeping water. Stir and cook for 3 minutes.

7. Add bay leaf, orange zest, olives and chicken stock. Stir well, bring to the boil and reduce to simmer. Nestle duck pieces evenly throughout the pan, cook over medium-low heat for 15 minutes, shaking pan to ensure even cooking of the rice. Only stir if necessary.

8. Nestle clams halfway into rice and continue to simmer over low heat for 12 minutes or until the clams are fully open. Clams take different amounts of time to cook; they open when they are fully cooked inside. As the clams are starting to open, nestle the radicchio evenly throughout the pan.

9. Remove bay leaf and orange zest, sprinkle with parsley and serve.
SHARE