Winery Beef Braise with Roots
Autumn 2017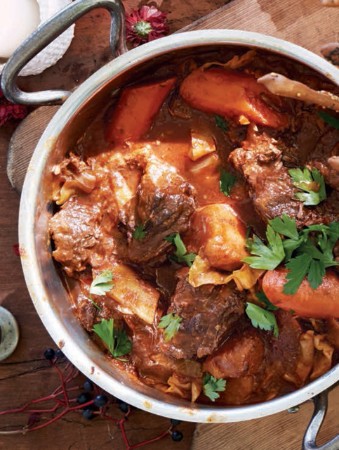 Winery Beef Braise with Roots
Autumn 2017
BY: Lucy Waverman
Buy your meat from a butcher and have it cut into 2-inch (5-cm) chunks. Prepackaged stewing beef is sometimes cut in different sizes, adversely affecting the outcome of this braise. Vary the vegetables as you prefer, but cut them all into a similar size. Buy tarragon vinegar, or make your own: bring 1 cup (250 mL) white wine vinegar to simmer, pour onto 8 sprigs or  ½ cup (125 mL) fresh tarragon in a heatproof dish, let cool to room temperature, store in jar in the fridge for up to 6 months.
4 lbs (2 kg) beef chuck, cut in 2 inch (5 cm) cubes
Salt and freshly ground pepper
2 tsp (10 mL) chopped thyme
3 tbsp (45 mL) vegetable oil, divided
2 cups (500 mL) diced onion
2 tsp (10 mL) chopped garlic
1 cup (250 mL) red wine
4 cups (1 L) beef stock
1 can (796 mL) tomatoes, crushed
3 tbsp (45 mL) tarragon vinegar
2 tbsp (30 mL) Worcestershire sauce
1 tsp (5 mL) sriracha
1 bay leaf
1½ lbs (750 g) carrots, peeled, about 5 carrots
1 lb (500 g) parsnips, peeled, about 3 parsnips
¾ lb (375 g) rutabaga, peeled, about ½ a rutabaga
½ small head green cabbage, core trimmed
2 tbsp (30 mL) chopped parsley
1. Preheat the oven to 300°F (150°C).

2. Season meat with salt, pepper and thyme. Heat 2 tbsp (30 mL) oil on high heat in a heavy Dutch oven. Working in batches, brown meat on all sides, about 1 minute per side. Remove and reserve.

3. Add remaining oil and reduce heat to medium. Add onions and cook, stirring, until softened, about 3 minutes, scraping up any bits from the bottom of the pan. Stir in garlic and cook until fragrant, about 1 minute. Pour in wine and bring to the boil. Add stock, tomatoes, vinegar, Worcestershire sauce, sriracha and bay leaf. Return to a boil, then return meat to pan. Cover and bake in the oven for 2 hours.

4. Prepare vegetables while meat cooks. Chop carrots and parsnips on a bias into 1-inch (2.5-cm) pieces. Cut any larger pieces in half diagonally. Cut rutabaga into 1-inch (2.5-cm) slices (they will look like half-moons). Cut each half-moon into 1-inch (2.5-cm) pieces, mimicking the shape of chopped carrots and parsnips. Slice cabbage through the core into ½-inch (1-cm) wedges.

5. Remove bay leaf. Add carrots, parsnips and rutabaga. Cover and cook for 45 minutes longer, or until the vegetables are almost tender.

6. Stir in cabbage. Cover and cook for 30 to 45 minutes more or until all vegetables are soft and beef is fork-tender. Taste for seasoning, adding salt and pepper as needed. Scatter with parsley.
SHARE