Wilted Spinach and Garlic Crostini
Temps des Fêtes 2006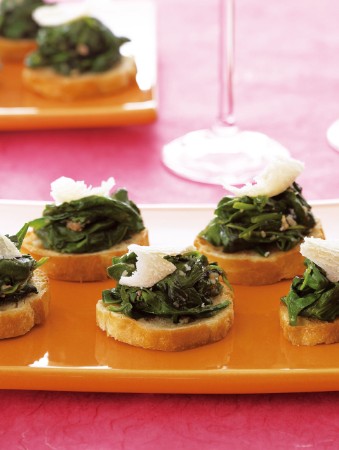 Wilted Spinach and Garlic Crostini
Temps des Fêtes 2006
BY: Emily Richards
Deep, earthy, green spinach with lots of garlic sits atop a toasted baguette slice for the perfect contrast of crunch and softness. For an added flavour hit, place a shaving of aged manchego cheese on top of the spinach before serving. Make the crostini ahead of time and keep on hand for a quick appetizer accompaniment.
Half French baguette, sliced
1/3 cup (75 mL) extra virgin olive oil
Sea salt
Two 10 oz (300 g) bags baby spinach, rinsed
6 garlic cloves, minced
2 anchovies, minced
½ tsp (2 mL) hot pepper flakes
1. Preheat oven to 425ºF (220ºC).

2. Brush baguette slices with some of the oil and place on large baking sheet. Toast in oven for about 8 minutes or until golden brown. Sprinkle with salt and let cool.

3. Cook spinach, 1 bag's worth at a time, in large nonstick skillet over medium-high heat, stirring often for about 5 minutes or until wilted. Place in colander and drain well. Repeat with remaining bag. Set aside.

4. Heat remaining oil in skillet over medium heat. Cook garlic, anchovies and hot pepper flakes for about 2 minutes or until golden. Add spinach and toss to coat with oil and garlic sauce. Cook for about 2 minutes or until well coated and warmed. Remove from heat and season to taste with salt.

5. Divide mixture among toasted baguette slices and serve.
SHARE