Wild Leek-Wrapped Venison with Caper Berry Aïoli
Spring 2015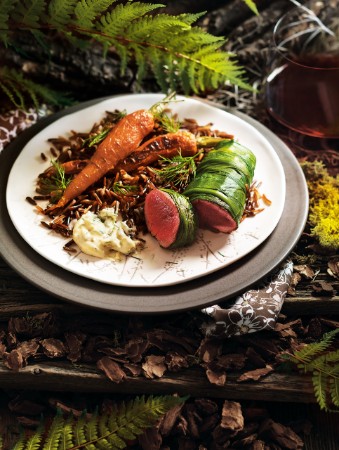 Wild Leek-Wrapped Venison with Caper Berry Aïoli
Spring 2015
BY: Miriam Streiman
This gorgeous recipe uses wild leeks in two clever ways—firstly, to flavour the aïoli in place of the usual garlic, and then as a colourful wrap for the luxurious venison tenderloin. If your aïoli breaks, don't sweat it. Add a couple of drops of water before adding the caperberries, dill and pepper, and give it a spin with an immersion blender. Be sure to save some bacon fat next time you cook some up.
CAPER BERRY AÏOLI
1 small wild leek bulb, finely chopped
½ tsp (2 mL) salt
1 egg yolk, room temperature
1 tsp (5 mL) grainy mustard
½ cup (125 mL) sunflower oil
2 pickled caper berries, stems removed, chopped
3 tbsp (45 mL) chopped dill, plus extra fronds for garnishing
1 tsp (5 mL) coarsely ground black pepper

2 venison tenderloins, each about ½ lb (250 g)
Salt and freshly ground pepper
2 tbsp (30 mL) butter
2 tbsp (30 mL) bacon fat
1 clove garlic, peeled
Sprig thyme
10 wild leek leaves
1 For the caper berry aïoli, use the side of a chef's knife to create a paste of the wild leek bulb and salt; place in a medium bowl. Whisk in egg yolk and mustard. Pour in oil against the side of the bowl in a thin, slow stream, whisking mixture until fully incorporated. Fold in caper berries, dill and pepper; cover and refrigerate until ready to serve (aïoli may be made up to 2 days in advance).

2 Season tenderloins with salt and pepper; set aside.

3 Heat butter and bacon fat over medium-high in a heavy-bottom skillet. Lightly crush garlic clove with the side of a knife, but leave intact; add to skillet along with thyme. Add wild leek leaves and carefully stir until just wilted; remove leaves to a large cutting board.

4 Return pan to medium-high and cook tenderloins for 1 minute per side, 2 minutes total for rare. Remove to a plate and tent with foil; discard thyme and garlic.

5 Arrange 5 wild leek leaves to lie flat and slightly overlapping. Place 1 tenderloin in centre and roll up to encase in leaves; repeat with remaining tenderloin. Cut both in half to create 4 pieces total, each about 3 inches (8 cm) long.

6 Serve tenderloins with a dollop of the caperberry aïoli and garnish with additional dill.
SHARE