Wild Blueberry Grunt
Summer 2021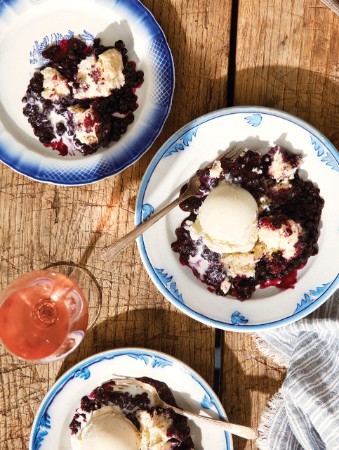 Wild Blueberry Grunt
Summer 2021
BY: Amy Rosen
File this one as another local delicacy. Not a pie, crumble, tart, bumble or even a cobbler, this grunt has a base of the wild blueberries the eastern provinces are known for, cooked stovetop, along with fluffy drop dumplings. The hilarious side effect of this dessert is that everyone's mouth turns purple from the intense pigment of the wild berries. Naturally, this grunt is extra great served warm alongside a scoop of ice cream.
2 bags (each 600 g) thawed wild blueberries, drained
1/2 cup (125 mL) sugar
1/2 cup (125 mL) brown sugar
1 tbsp (15 mL) cornstarch
Zest and juice of 1 lemon

DUMPLINGS
2 cups (500 mL) all-purpose flour
1/4 cup (60 mL) sugar
2 tsp (10 mL) baking powder
1/2 tsp (2 mL) sea salt
1/2 tsp (2 mL) cardamom
2 tbsp (30 mL) cold butter
1 cup (250 mL) half & half cream
Vanilla ice cream (optional)
1. In a large skillet, preferably cast iron, combine blueberries with white and brown sugars, and cornstarch. Bring to a boil, then reduce heat and simmer for 30 to 40 minutes or until mixture is the consistency of jam. Add lemon zest and juice, and cook for 1 minute more, then remove from heat.

2. For dumplings, in a medium bowl, add flour, sugar, baking powder, salt and cardamom. Whisk to combine. Grate in cold butter. Stir in cream until the mixture becomes a wet dough. Scoop heaped tablespoons evenly over blueberry mixture in pan.

3. Return pan to medium heat, cover and cook for 15 minutes or until dumplings are puffed and cooked through. Serve warm with ice cream.
SHARE