Whole-Wheat Pasta Bake with Porcini & Sausage
Autumn 2017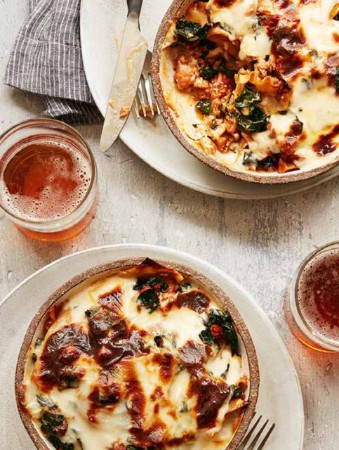 Whole-Wheat Pasta Bake with Porcini & Sausage
Autumn 2017
BY: Christopher St. Onge
I love lasagna but not all the work. Here, two very quick sauces—and unfussy broken lasagna noodles—combine for a knockout dish that tastes like a lot more work. If you're convinced you dislike whole-wheat pasta, try this dish. Using them here has nothing to do with our health; they are simply the right noodle for the sauces.
1 cup (250 mL) boiling water
½ oz (15 g) dried porcini
2 tbsp (30 mL) olive oil
3 cloves garlic, finely chopped
2 mild Italian sausages, about 10 to 12 oz (300 to 375 g), removed from casings
½ tsp (2 mL) dried chili flakes (optional)
2 tbsp (30 mL) tomato paste
½ cup (125 mL) dry white wine
8 oz (250 g) bunch lacinato kale, trimmed of centre ribs, coarsely chopped
Salt and freshly ground pepper
8 whole-wheat lasagna noodles, about 6 oz (175 g)

TALEGGIO SAUCE
1½ cups (375 mL) milk
1 bay leaf
1 small onion, peeled and quartered
2 tbsp (30 mL) butter
2 tbsp (30 mL) all-purpose flour
1 piece (5 oz/150 g) Taleggio cheese, trimmed of rind, cubed
Salt and freshly ground pepper
1 Pour boiling water over porcini in a small heatproof bowl; let stand 30 minutes. Remove porcini from liquid, squeeze over bowl to remove excess water; roughly chop mushrooms. Reserve both mushrooms and soaking liquid separately.
2 Heat olive oil in a large skillet over medium heat; fry garlic until just beginning to colour, about 3 minutes. Add reserved porcini to pan; stir to combine. Crumble sausage over and stir in chili flakes if using; cook, breaking apart sausage with a fork, for 4 to 5 minutes or until no longer pink. Stir in tomato paste and cook for 3 more minutes to caramelize the paste.
3 Pour wine into the same pan; stir to combine. Boil to reduce liquid by half. Pour reserved porcini liquid through a fine mesh sieve into skillet. Bring to a boil and stir in kale; cover and cook for 6 minutes. Season to taste with salt and pepper; set aside.

4 Break lasagna noodles into 1- to 2-inch (2.5- to 5-cm) irregular pieces; cook according to package directions. Drain.

5 Meanwhile, make the Taleggio sauce by combining milk, bay leaf and onion in a small pot. Simmer over medium-low heat for 5 minutes to infuse milk; remove and discard bay leaf and onion.
6 In a second medium pot, melt butter over medium heat; whisk in flour, then infused milk. Bring to a boil, stirring constantly, to thicken. Reduce to low and add Taleggio a few pieces at a time, whisking until melted and all the cheese is incorporated. Season to taste with salt and pepper.
7 Preheat oven to 425°F (220°C).
8 To assemble, toss cooked noodles with sausage mixture. Spread half the Taleggio sauce in bottom of an 8 x 8-inch (20 x 20‑cm) baking dish. Top with pasta mixture, then spread remaining Taleggio sauce overtop. Bake for 35 to 40 minutes or until bubbling and golden. Let stand 10 minutes before serving.
SHARE