White Sangria-Glazed Grilled Chicken
Été 2006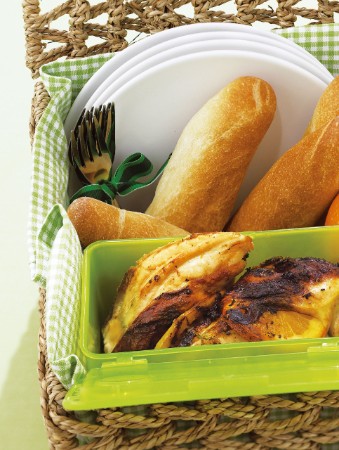 White Sangria-Glazed Grilled Chicken
Été 2006
BY: Jennifer MacKenzie
A sangria-inspired marinade and grilling over indirect heat combine to produce a moist, flavourful chicken with a burnished, crispy skin. Removing the backbone and flattening the chicken speeds up the cooking time and helps the marinade infuse all the way through the meat. Ask your butcher to flatten the chicken for you if possible. To cook over indirect heat, you'll need a BBQ with at least 2 burners. If your BBQ doesn't have an accurate thermometer on the lid, place an oven thermometer on the grill beside the chicken to ensure the temperature is correct, adjusting the burners as necessary. You can use this same marinade on chicken pieces or boneless, skinless chicken threaded onto skewers.
One 3½ to 4 lb (1.75 to 2 kg) chicken
1 cup (250 mL) white wine
2 tbsp (25 mL) brandy
1 tsp (5 mL) grated lemon rind
1 tsp (5 mL) grated orange rind
2 tbsp (25 mL) freshly squeezed orange juice
1 green onion, finely chopped
Freshly ground black pepper
4 thin slices orange
4 thin slices lemon
Salt
1. Place chicken, breast-side down, on cutting board. Cut along both sides of backbone using kitchen shears and discard bone or reserve for another use. Trim off any excess fat from chicken. Place skin-side up and press firmly down on breastbone to flatten. Rinse chicken under cold running water and pat dry with paper towel. Place in a large plastic storage bag.

2. Combine wine, brandy, lemon rind, orange rind, orange juice, green onion and pepper. Pour over chicken and seal bag. Turn chicken to coat evenly with marinade. Place bag in a dish and refrigerate for at least 8 hours or for up to 1 day, turning occasionally. (Chicken can be frozen in marinade for up to 1 month. Thaw in refrigerator overnight, turning occasionally).

3. Preheat all BBQ burners on medium-high heat.

4. Remove chicken from marinade, reserving marinade. Pat chicken dry with paper towel. Place chicken, skin-side up, on a baking sheet. Loosen skin on each thigh and leg quarter and slide 1 orange slice and 1 lemon slice between skin and meat; replace skin. Repeat with remaining orange and lemon slices on breast meat. Tuck wings toward centre. Insert a long metal skewer diagonally starting at 1 thigh and leg quarter through to the breast and wing on opposite side, parallel to work surface. Repeat with another skewer to form an X. (This keeps chicken flat while cooking.) Season all over with salt.

5. Turn 1 burner of BBQ off and reduce other burner(s) to medium heat or required setting to maintain temperature at 375°F (190°C).

6. Place chicken, skin-side down, over unlit burner. Close lid and grill for 15 minutes or until skin is well marked. Turn skin-side up and brush generously with reserved marinade, discarding any excess marinade. Close lid and grill chicken for 30 to 40 minutes longer or until the juices run clear and skin is crispy. Transfer to cutting board and tent with foil for 5 minutes. Cut into pieces to serve.
SHARE