White Bean Soup
Winter 2014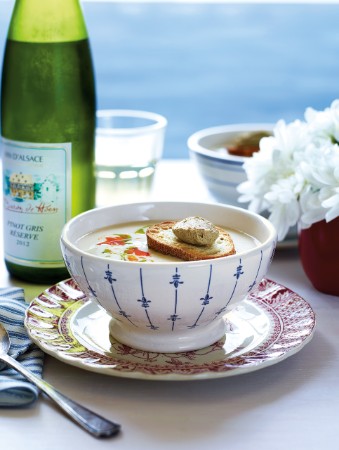 White Bean Soup
Winter 2014
BY: Lucy Waverman
I was served this dish with diced foie gras as an accompaniment, which was outrageously good. I have adapted it for chicken liver mousse, but you can also garnish it with chopped smoked salmon instead. A blender will give a much smoother soup than a food processor. You can make the Chicken Liver Mousse or buy a soft one that can be spooned out onto the toasts. If desired, good chili oil can be purchased at food markets.
1 cup (250 mL) dried cannellini beans
1 tbsp (15 mL) olive oil
1 cup (250 mL) sliced onions
2 tsp (10 mL) chopped garlic
4 cups (1 L) chicken or vegetable stock
1 dried red chili
1 bay leaf
2 thin slices lemon
½ cup (125 mL) whipping cream
Salt and freshly ground white pepper

CHIVE OIL
½ cup (125 mL) chives
½ cup (125 mL) vegetable oil
¼ cup (60 mL) green onions
Pinch of salt

CHILI OIL (make 24 hours ahead)
4 fresh Thai bird's eye chilies, cut in half
1 cup (250 mL) peanut or vegetable oil

CROSTINI
6 slices baguette, thinly sliced
1 tbsp (15 mL) chili oil
Chicken Liver Mousse (recipe follows)
1 Place beans in water to cover and bring to boil. Set aside for 1 hour covered, then drain and rinse.

2 Heat oil in a soup pot over medium heat. Add onions, sauté for 3 minutes or until softened. Add garlic, sauté 1 more minute. Add beans and toss with onions and garlic.

3 Pour in stock, chili, bay leaf and lemon slices. Bring to boil. Cover and simmer for 1 to 1¼ hours or until tender. Remove chili, bay leaf and lemon slices.

4 Purée beans with broth in blender until very smooth. Return to pot and add whipping cream. Simmer for 5 minutes. Season with salt and white pepper to taste. The soup should be thick. If too thin, reduce it slowly.

5 To make chive oil, blanch chives in boiling water for 1 minute. Drain and pat dry. Combine chives, vegetable oil, green onions anda pinch of salt in blender. Blend until smooth. Use to garnish soups, fish and poultry dishes.

6 To make chili oil, place chilies in saucepan and pour over 1 cup (250 mL) peanut or vegetable oil. Heat gently for 5 to 6 minutes or until the chilies sizzle slightly. Remove from heat at once and cool. Let sit for 24 hours then strain out chilies.

7 Preheat oven to 350°F (180°C).

8 Brush baguette slices with chili oil. Bake for 8 minutes, turning halfway through or until crisp and golden. Let cool, break into pieces, if desired. Place a small dollop of mousse on each crostini piece and float in the soup bowl. Dot soup with chive oil and chili oil.

CHICKEN LIVER MOUSSE

Use leftovers as a spread on crackers.

¼ cup (60 mL) butter
¼ cup (60 mL) chopped onion
½ tsp (2 mL) chopped garlic
8 oz (250 g) chicken livers, cleaned
¼ tsp (1 mL) curry powder
¼ cup (60 mL) sour cream
Salt and freshly ground pepper
1 Heat butter in skillet over high heat. Add onions and garlic and sauté until softened, about 1 minute. Add chicken livers and fry
for 3 minutes or until still slightly pink in middle. Add curry powder for the last minute of cooking.

2 Place in food processor and purée until smooth. Add sour cream and blend until combined. Season with salt and pepper.
SHARE