White Bean Salsa Tacos with Cumin Cream & Spicy Lime Smashed Avocado
Early Summer 2013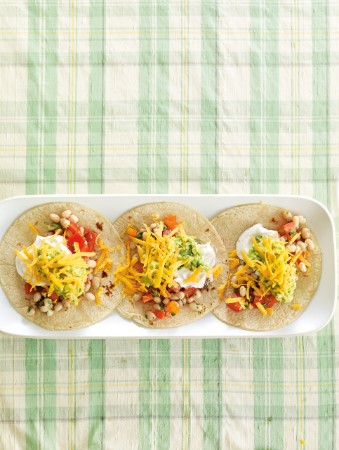 White Bean Salsa Tacos with Cumin Cream & Spicy Lime Smashed Avocado
Early Summer 2013
BY: Victoria Walsh
These colourful tacos come together in a flash. Save even more time by serving everything family-style, allowing everyone to assemble their own tacos.
WHITE BEAN SALSA
2 cans (540 mL each) white beans, such as navy or kidney
4 roma tomatoes
2 sweet peppers
½ cup (125 mL) coarsely chopped cilantro
¼ cup (60 mL) olive oil
Salt and pepper

CUMIN SOUR CREAM
1 cup (250 mL) sour cream
½ tsp (2 mL) ground cumin

SPICY-SMASHED AVOCADO
1 jalapeño
4 ripe avocados
1 to 2 limes
Salt and pepper

24 hard taco shells or soft tortillas
2 cups (500 mL) finely grated cheddar cheese
1 If using hard tacos, preheat oven according to package directions. Rinse and drain beans, then place in a bowl. Finely chop tomato and peppers. Stir into beans along with cilantro. Stir in olive oil, salt and pepper.

2 In a small bowl, stir sour cream with cumin. Finely chop jalapeño. Pit avocado and scoop flesh into a medium bowl. Using a fork, smash avocado, stir in jalapeño and squeeze in 2 tbsp (30 mL) juice from limes. Season with salt and pepper.

3 Warm tacos or tortillas. Stuff with bean salsa and top with cumin sour cream, smashed avocado and cheese.
SHARE