White Bean Mash
Spring 2007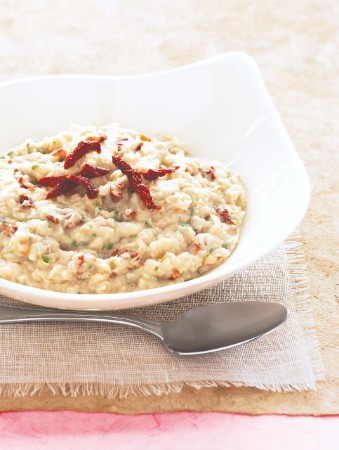 White Bean Mash
Spring 2007
BY: Emily Richards
If you're trying to come up with new ideas for your side dishes this is one that everybody will enjoy. These mashed beans are similar in texture to potatoes and are enhanced with strong flavours of sage and sun-dried tomatoes. Ideal for weeknight or entertaining menus, this dish will stand alongside a favourite steak or roast.
2 cups (500 mL) white or red kidney beans
3 cloves garlic
½ small onion
½ cup (125 mL) hot vegetable stock
2 tbsp (25 mL) chopped fresh sage
3 tbsp (45 mL) drained, chopped, oil-packed sun-dried tomatoes
2 tbsp (25 mL) chopped fresh basil or Italian parsley
½ tsp (2 mL) salt
Pinch pepper
1. Sort through beans and remove any stones. Rinse in fine mesh sieve.

2. Combine 8 cups (2 L) water and white kidney beans in large deep bowl. Cover and refrigerate overnight. Discard water and rinse beans.

3. Bring 8 cups (2 L) fresh water, soaked beans, garlic and onion to boil in large pot. Reduce heat; partially cover and simmer for 1 to 1½ hours or until beans are very tender. Drain well and return to pot.

4. Add vegetable stock and mash beans with potato masher until smooth. Stir in sage, tomatoes, basil, salt and pepper.

Other Bean Options: Romano beans.
Canned Bean Option: Use three 19 oz cans white or red kidney or Romano beans, drained and rinsed.
SHARE