West Indian Spicy Beef Curry
Autumn 2006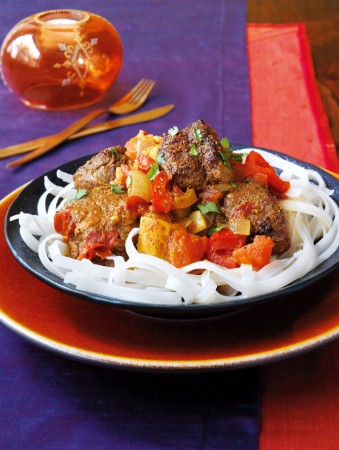 West Indian Spicy Beef Curry
Autumn 2006
BY: Lucy Waverman
An unusual curry for the curry aficionado. West Indian Curry is slightly different-the mix of spices is a little sweeter with more cinnamon, anise and turmeric in it and there is no chili. You can add the lethally hot Scotch bonnet chilies into this or use hot sauce to spike it up afterwards. You can purchase West Indian curry powder, if desired. You can also turn this into an Indian curry by using Indian curry powder or paste. This is an interesting method to make this dish. You actually just reheat the meat in the curry mixture when needed, making it perfect for elegant entertaining. West Indian sweet potato is called boniato and it is drier than our sweet potatoes. If it is not available, use sweet potato.
Curry Mixture
2 tbsp (25 mL) coriander seeds
1 ½ tsp (7 mL) anise or fennel seeds
½ tsp (2 mL) black mustard seeds, optional
½ tsp (2 mL) cumin seeds
½ tsp (2 mL) Jamaican allspice
1 tsp (5 mL) turmeric
½ tsp (2 mL) ground cinnamon

Meat and Vegetables
2 tbsp (25 mL) vegetable oil
2 lb (1 kg) beef sirloin or tenderloin, cut into 2-inch (5-cm) chunks
Salt to taste
1 cup (250 mL) chopped onion
½ red pepper, diced
½ yellow pepper, diced
1 small white West Indian sweet potato, peeled
and cut into 1-inch (2.5-cm) chunks
1 cup (250 mL) chopped tomatoes, fresh or canned
2 cups (500 mL) beef or chicken stock
2 tbsp (25 mL) lime juice
¼ cup (50 mL) chopped fresh coriander
1. Place coriander, anise or fennel, black mustard seeds, cumin seeds and Jamaican allspice in a dry skillet over medium heat. Stir seeds together until mixture smells fragrant. Remove from heat and grind in a spice grinder. Stir in turmeric and cinnamon.

2. Dredge meat with 1 tbsp (15 mL) curry mixture, reserving remainder. Season with salt.

3. Heat oil in a sauté pan or deep skillet over high heat. Add meat in batches and sear until well browned on all sides, about 4 minutes. Remove from skillet and reserve. The meat should be rare.

4. Add more oil to skillet, if needed, reduce heat to medium and add onion, red and yellow peppers, sweet potato and 1 tbsp (15 mL) spice mixture (there may be some left over). Sauté until onions are softened. Add tomatoes and stock. Bring to boil, reduce heat and simmer for 20 minutes or until sauce is thickened and sweet potato is cooked. Stir in lime juice.

5. When ready to serve, reheat sauce and add meat. Simmer together for 5 to 8 minutes or until meat is hot and a little more cooked. Sprinkle with coriander just before serving.


SHARE