Watercress and Strawberry Salad
Début de l'été 2009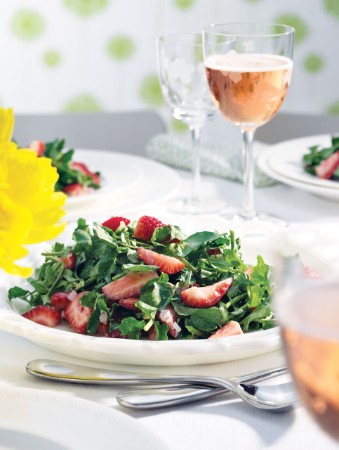 Watercress and Strawberry Salad
Début de l'été 2009
BY: Tonia Wilson-Vuksanovic
When trimming watercress, cut away only the very large stems, leaving the rest intact. Also, when washing the leaves be quite gentle as they are very delicate. This salad makes four appetizer portions. If the salad is not going to be served with other courses, the recipe can easily be doubled to make a more substantial dish.
2 tsp (10 mL) white wine vinegar
1 tsp (5 mL) grainy Dijon mustard
1⁄4 cup (50 mL) peach yogurt
2 tbsp (25 mL) olive oil
Salt to taste
5 cups (1.25 L) fresh watercress, washed and trimmed
1 cup (250 mL) fresh strawberries, quartered
2 tbsp (25 mL) red onion, finely diced
2 tbsp (25 mL) slivered almonds, toasted
1. In a large bowl, whisk together vinegar and mustard. Whisk in yogurt and olive oil and season with salt.

2. To the bowl add watercress, strawberries and red onion. Season generously with salt and toss gently.

3. Plate salad and sprinkle with almonds.
SHARE