Wasabi Tuna Tacos with Crunchy Slaw
Holiday 2012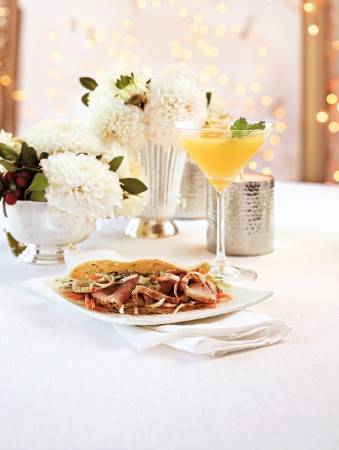 Wasabi Tuna Tacos with Crunchy Slaw
Holiday 2012
BY: Emily Richards
Look for firm, thick tuna steaks that smell ocean-fresh for these kicked-up tacos. With a slight heat from the wasabi and the crunch of the slaw, these will become a holiday favourite to serve up many times.
WASABI MAYONNAISE
1/3 cup (80 mL) light mayonnaise
2 tbsp (30 mL) chopped fresh cilantro
½ tsp (2 mL) wasabi

CRUNCHY SLAW
1 cup (250 mL) shredded cabbage or coleslaw mix
1/3 cup (80 mL) shredded daikon or radish
1/3 cup (80 mL) shredded carrot
2 tbsp (30 mL) rice vinegar
Pinch granulated sugar
Salt to taste

2 tuna steaks, 1½ inches (4 cm) thick, total 1½ lbs (750 g)
2 tsp (10 mL) canola oil
2 tsp (10 mL) sesame seeds
1 tsp (5 mL) coriander seeds, crushed coarsely
Kosher salt and freshly ground black pepper
12 small corn tortillas
1 For wasabi mayonnaise: in a small bowl, whisk together mayonnaise, cilantro and wasabi; set aside.

2 For crunchy slaw: in a bowl, stir together cabbage, daikon, carrot, vinegar, sugar and season with salt to taste until combined. Stir in 2 tbsp (30 mL) of the wasabi mayonnaise to coat; set aside.

3 Rub tuna with oil and sprinkle both sides evenly with sesame and coriander seeds, salt and pepper.

4 Heat skillet over high heat and sear tuna on both sides, about 2 minutes per side for medium-rare. Remove to cutting board and slice thinly across the grain.

5 Spread remaining wasabi mayonnaise evenly over tortillas and top with tuna and crunchy slaw to serve.
SHARE