Wasabi Crusted Sole with Glazed Endive
Summer 2003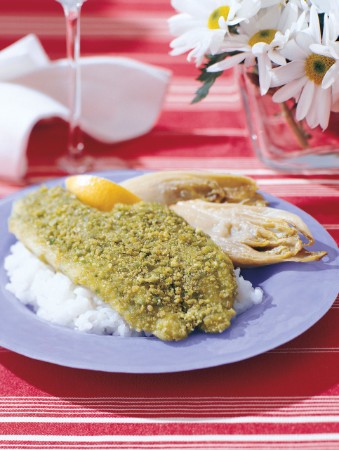 Wasabi Crusted Sole with Glazed Endive
Summer 2003
BY: Lucy Waverman
Sole is a mild white flatfish that is equally delicious fried or poached, either as a whole fish or as filets. Flounder is often called sole and works equally well in this recipe, though the filets are slightly bigger. Roasted wasabi peas are a popular Japanese snack available in most Asian food stores. The heat they give the crust is balanced by the sweetness of the endive, making an interesting combination for a light summer meal. Serve with Japanese rice and baby bok choy.
1 1/2 cups (375 mL) wasabi peas
1 egg, beaten with a pinch of salt
1 1/2 lbs (750 g) sole filets
2 tbsp (25 mL) butter
2 tsp (10 mL) sugar
4 Belgian endive, cut in half lengthwise
1/2 cup (125 mL) chicken stock
1/2 cup (125 mL) orange juice
1 tsp (5 mL) grated lemon rind
Salt and freshly ground pepper
2 tbsp (25 mL) vegetable oil

Garnish
2 tbsp (25 mL) chopped coriander or parsley
Lemon wedges


1. Grind peas in food processor as finely as possible (there will be some texture left). Place on plate. Add egg to separate plate. Dip fish in egg mixture then press into wasabi pea powder to coat well. Reserve.

2. Heat butter in skillet over medium heat. Sprinkle in sugar and stir to dissolve. Add endives in a circle. Cook for 5 minutes, turning occasionally or until endive is golden.

3. Combine chicken stock, orange juice and lemon rind. Pour over endives, bring to boil, cover, reduce heat to medium-low and simmer until endives are soft when pierced with a knife tip, about 6 to 8 minutes. Remove endives and reduce liquid until it forms a glaze. Return endives, season and keep warm.

4. Heat oil in skillet on medium heat and fry fillets about 1 to 2 minutes on each side or until cooked. Add more oil if needed.

5. Serve fillets accompanied by glazed endive. Sprinkle with coriander and garnish with lemon wedges.
SHARE