Warm Salad with Honey-Mustard Flank Steak
Spring 2011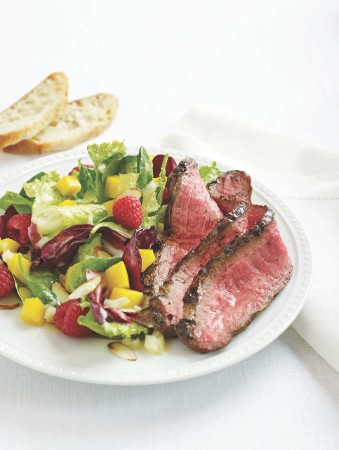 Warm Salad with Honey-Mustard Flank Steak
Spring 2011
BY: Marilyn Bentz-Crowley
Lingering outside next to the barbecue in the spring can be chilling. Fortunately, flank steak takes just 10 to 12 minutes to become lusciously medium-rare (which is about as cooked as this cut of tougher meat should be). Honey-mustard vinaigrette pairs well with soft fruit such as strawberries, raspberries and mango, so mix and match according to availability. The oil in the marinade prevents the mustard from burning during grilling so do not reduce the amount!
STEAK
1½ to 2 lbs (750 g to 1 kg) flank steak
2 tbsp (25 mL) honey mustard, such as billybee brand
1 large clove garlic, minced
½ tsp (2 mL) salt
¼ tsp (1 mL) freshly ground black pepper
2 tbsp (25 mL) peanut or olive oil

SALAD
¼ cup (50 mL) white wine vinegar
2 tbsp (25 mL) honey mustard
¼ tsp (1 mL) each of salt and freshly ground black pepper
¼ cup (50 mL) olive oil
¼ cup (50 mL) finely minced Vidalia or other sweet onion
12 to 16 cups (3 to 4 L) mixed greens such as romaine, radicchio and baby spinach
8 to 10 fresh strawberries, sliced, or 1 cup (250 mL) fresh raspberries
1 mango, peeled, cored and diced
⅓ cup (75 mL) toasted slivered or sliced almonds
1. Cut off and discard any fat or silvery skin on surface of steak. Place steak in a 9 x 13-inch (3-L) dish. Stir mustard with garlic, salt and pepper until well mixed. Thoroughly stir in oil. Smear over all surfaces of steak; cover dish with plastic wrap and refrigerate for 3 to 6 hours.

2. To make vinaigrette, whisk vinegar with mustard, salt and pepper. Then whisk in oil; stir in onion. Vinaigrette keeps well at room temperature for an hour or cover and refrigerate for up to a week. Stir or shake just before using.

3. Preheat grill on high until searingly hot.

4. Grill flank steak for 5 to 6 minutes per side or until 140°F (60°C) on an instant-read thermometer. Place on wooden cutting board; cover with foil for 5 minutes. Then, holding the knife at a slight angle to get slightly wider slices, very thinly slice across grain of steak.

5. Meanwhile, toss greens with vinaigrette to taste (all dressing may not be needed). Heap onto plates; top with fruit and almonds. Lay steak slices decoratively, partially on salad and partially on plate. Serve immediately with baguette.
Serves 4 to 6 as light entrée
SHARE