Warm Frisée Salad with Potatoes and Ham
Holiday 2010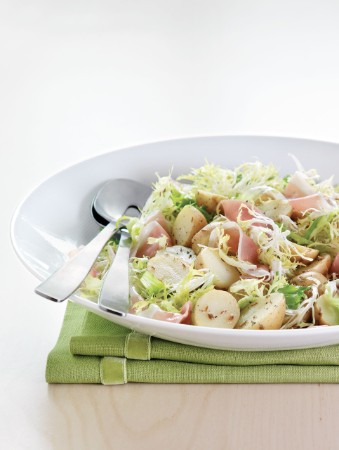 Warm Frisée Salad with Potatoes and Ham
Holiday 2010
BY: Jennifer McLagan
The combination of frisée, potatoes and ham makes this a good appetizer or a luncheon main course. Prosciutto is my favourite addition, but any ham, cooked chicken or sausage will work.
1 lb (500 g) small yellow-fleshed potatoes, about 18 to 20
Sea salt
1 fresh bay leaf
8 cups (2 L) washed frisée leaves
1 tbsp (15 mL) red wine vinegar
1 tsp (5 mL) Dijon mustard
Freshly ground black pepper
⅓ cup (75 mL) extra virgin olive oil
2 tsp (10 mL) toasted cumin seeds
4 to 6 prosciutto slices, cut into 1-inch (2.5-cm) strips
1 Place the potatoes, salt and the bay leaf in a large saucepan, cover the potatoes with water, and bring to a boil over medium heat. Lower the heat, and simmer partially covered until cooked, about 20 minutes.

2 Meanwhile, tear the frisée leaves into bite-size pieces and place in a large salad bowl. Mix the vinegar and mustard together and season well with salt and pepper, then slowly whisk in the olive oil.

3 Drain the potatoes, discard the bay leaf and while warm cut the potatoes in half and add to the salad bowl. Toss well with the dressing: the heat of the potatoes will slightly wilt the leaves.

4 Add the cumin seeds and toss again, then add the prosciutto strips and toss gently.


Serves 4 as a lunch course, 6 as an appetizer
SHARE