Walnut and Duck Salad with Pomegranate Dressing and Cracklings
Autumn 2006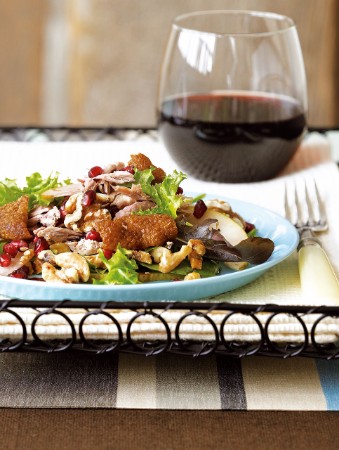 Walnut and Duck Salad with Pomegranate Dressing and Cracklings
Autumn 2006
BY: Marilyn Bentz-Crowley
The sweet acidity of pomegranate juice is the perfect alternative to vinegar in this light salad dressing-and a perfect foil for rich duck meat. Cracklings are bits of crispy brown duck skin that are utterly delicious. If you can stand to skip the cracklings, a small roasted (or purchased barbecued) chicken can replace the duck.
One 4 lb (2 kg) duck
½ cup (125 mL) pomegranate juice
1 tbsp (15 mL) olive oil
¼ tsp (1 mL) salt
2 to 3 grindings black pepper
1 firm ripe pear, preferably Bosc
¾ cup (175 mL) walnut halves, toasted
8 cups (2 L) lightly packed mesclun or baby green mix
1 pomegranate
1. Remove skin from neck cavity in 1 large piece. Pull away and discard loose fat; set skin aside. Cut wings and legs from duck. Cut on either side of backbone, freeing breast area. Split breast bone in half, forming 2 pieces of breast meat. Discard backbone, wings and any inclusions in duck cavity or freeze for duck stock at another time.

2. Place a deep heavy skillet, chicken fryer or shallow Dutch oven (just large enough to hold legs and breasts in a single layer) over medium heat. When quite hot, add duck parts skin-side down; fry 10 to 15 minutes, uncovered, or until skin on underside of legs and breasts is deeply golden. Do not turn duck. Lay reserved neck skin over top. Cover, reduce heat to low; cook 35 to 40 minutes or until duck feels firm to the touch. Remove cooked duck and skin from pan; cool until able to handle.

3. To make cracklings, pour off and save all fat and drippings from pan; wipe pan interior with a couple of paper towels. Return most of drained fat to pan leaving dark drippings behind. Keeping in large pieces, remove skin from breasts and legs. Using a sharp knife, scrape and cut away most of the fat from all pieces of skin. Discard fat; cut skin into irregular pieces about 1½-inches (4-cm) square. Heat duck fat until very hot over medium heat. Return skin pieces to pan. Fry 3 to 8 minutes depending on skin thickness or until crisp and deeply golden like well-done streaky bacon. Remove pieces as they are cooked; drain well on paper towels.

4. Remove bones from duck meat; discard. Pull duck into large shreds. (Cover and refrigerate shredded duck and cracklings if making ahead. To restore crunch to cracklings, if necessary, heat uncovered in a small metal pan for 4 to 5 minutes in a preheated 350ºF/180ºC oven.)

5. Measure ½ cup (125 mL) pomegranate juice (Tip follows) in a 1 cup (250 mL) glass measuring cup. Place uncovered in microwave; boil on high power for 3 to 6 minutes or until reduced to ¼ cup (50 mL). Or pour into a small saucepan and reduce by half over medium heat. Cool, then whisk with olive oil, salt and pepper.

6. Core unpeeled pear; thinly slice. Set aside about a third of the best-looking walnuts; coarsely chop remainder. Toss mesclun, pear and chopped walnuts with dressing. Divide among chilled serving plates; place shredded duck over top. Garnish with pomegranate seeds, remaining walnuts and cracklings. Serve right away.


Makes 4 main-course servings or 8 side servings

Tip:  Pomegranate juice is increasingly available in grocery and drug stores as it is high in healthy antioxidants. Grenadine syrup, an ingredient in Shirley Temples and numerous alcoholic drinks, is supposed to be pomegranate syrup; however these days, grenadine has the unfortunate additions of artificial flavour and colouring-and sometimes no pomegranate juice at all!



SHARE