Walnut Bread & Chicken Stuffing
Temps des Fêtes 2016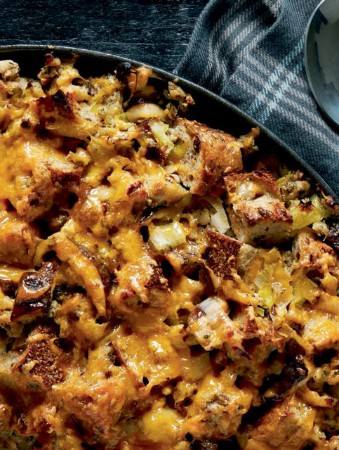 Walnut Bread & Chicken Stuffing
Temps des Fêtes 2016
BY: Christopher St. Onge
Adding a bit of piquancy to the stuffing and playing nice with the walnuts in the bread, the cheddar cheese topping browns to a gentle crisp here and develops delectable toasty flavours. Look for unsliced crusty walnut bread from better grocers, but be sure it doesn't include raisins or any added sugar.
½ cup (125 mL) unsalted butter, divided
2 leeks, white and light green part only, cleaned and thinly sliced
8 oz (250 g) shiitake mushrooms, stems discarded, caps thinly sliced
6 cloves garlic, finely chopped
1 lb (500 g) ground chicken
1½ tsp (7 mL) salt, divided
1 tbsp (15 mL) dried savoury
1 tbsp plus 2 tsp (15 mL plus 10 mL) finely chopped fresh thyme
2 tsp (10 mL) dried rubbed sage
½ cup (125 mL) dry white wine
12 cups (3 L) day-old whole-grain walnut or red fife bread cut into 1 inch (2.5 cm) cubes
3 eggs
2 cups (500 mL) turkey or chicken stock
1 tsp (5 mL) freshly ground black pepper
1½ cups (375 mL) coarsely grated medium cheddar
1 Heat ¼ cup (60 mL) butter in a large skillet over medium-low heat. Cook leeks and mushrooms until mushrooms have given up their moisture and leeks are tender, about 10 minutes; turn out into a large bowl.

2 Return skillet to stove, increase heat to medium, and melt remaining ¼ cup (60 mL) butter. Add garlic and ground chicken to pan, sprinkle with 1 tsp (5 mL) salt, savoury, 1 tbsp (15 mL) thyme and sage. Break up with a fork and cook until no longer pink, about 4 minutes. Pour white wine over and reduce until virtually no liquid remains; combine with leek mixture in bowl. Add bread and toss to combine.

3 Preheat oven to 350°F (180°C).

4 In a separate bowl, whisk together eggs, stock, pepper and remaining ½ tsp (2 mL) salt; pour over bread mixture and combine. Turn mixture out into a 9 x 13-inch (23 x 33‑cm) baking dish (or a 3- to 3.5-L gratin dish), top with cheese and remaining 2 tsp (10 mL) thyme and bake on lower rack for 30 to 35 minutes or until cheese is golden and stuffing is hot.
SHARE