Vindaloo Meatballs
Hiver 2011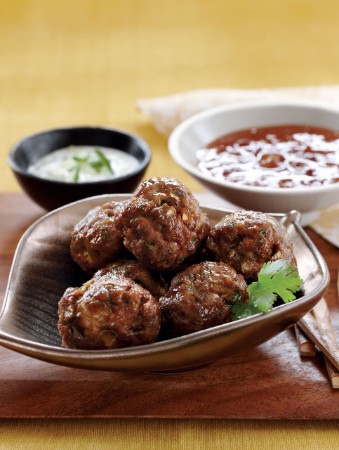 Vindaloo Meatballs
Hiver 2011
BY: Heather Trim
These spicy but not super-hot meatballs are a great change from ordinary supermarket fare. Ground lamb is most easily bought at a butcher shop. Raita can often be found in major grocery stores in the deli section, and the chutney and vindaloo paste in the Indian section.
½ lb (250 g) ground lamb
2 tbsp (25 mL) dried unseasoned bread crumbs
2 tbsp (25 mL) store-bought or homemade raita or plain yogurt
2 tbsp (25 mL) finely chopped coriander
4 tsp (20 mL) Indian curry paste, preferably vindaloo
1 green onion, finely minced
1 tbsp (15 mL) finely minced ginger
¼ tsp (1 mL) salt
Raita and sweet mango chutney
1 Preheat oven to 375°F (190°C). Line a rimmed baking sheet with parchment paper.

2 Place lamb, bread crumbs, 2 tbsp (25 mL) raita, coriander, vindaloo paste, onion, ginger and salt in a medium bowl. Mix gently just until combined.

3 Form into 1-inch (2.5-cm) meatballs, then place on tray. Bake in centre of preheated oven until cooked through, about 15 minutes.

4 Serve warm with raita and mango chutney. If chutney is too thick for dipping in meatballs, thin with a little orange juice or water.


Makes about 2 dozen meatballs
SHARE