Vietnamese BBQ Chicken & Shrimp
Autumn 2018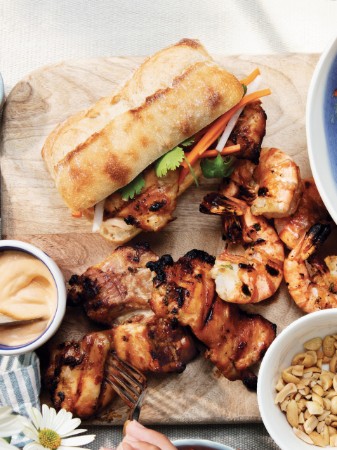 Vietnamese BBQ Chicken & Shrimp
Autumn 2018
BY: Eshun Mott
Serve chicken and shrimp on a platter with crusty mini-baguettes or rolls, Quick Pickled Carrots and Daikon, Sriracha Mayo and cilantro sprigs so that guests can assemble a banh mi sandwich if they desire. Grilled chicken and shrimp are also great over the Noodle Salad.
⅓ cup (80 mL) fish sauce
¼ cup (60 mL) low-sodium soy sauce
¼ cup (60 mL) canola oil
¼ cup (60 mL) dark brown sugar
¼ cup (60 mL) chopped cilantro
3 tbsp (45 mL) fresh lime juice
1 tbsp (15 mL) grated lime zest
1 tbsp (15 mL) grated fresh ginger
1 tbsp (15 mL) grated fresh garlic
2 tsp (10 mL) chili paste (sambal oelek)
2 lbs (905 g) boneless, skinless chicken thighs
1 lb (455 g) large zipper-back shrimp (peel on)
Bamboo skewers (optional)
1. Combine fish sauce, soy sauce, canola oil, brown sugar, cilantro, lime juice and zest, ginger, garlic and sambal oelek. Set aside ⅓ cup (80 mL) of marinade for shrimp and pour the rest over the chicken. Let chicken stand for 4 to 12 hours in the refrigerator. Toss shrimp in reserved marinade and soak bamboo skewers in water for 30 minutes before grilling.

2. Preheat a grill to high (if you have the opportunity to grill over charcoal do so—it will add a lot of extra flavour). Thread shrimp onto skewers (if desired). Turn heat down to medium and grill chicken for 8 to 10 minutes a side or until cooked through and slightly caramelized at the edges. Grill shrimp for 2 minutes a side or until pink and just cooked through.
Makes 10 servings as part of whole menu
SHARE