Vidalia Onion Tart with Spinach Pesto
Early Summer 2008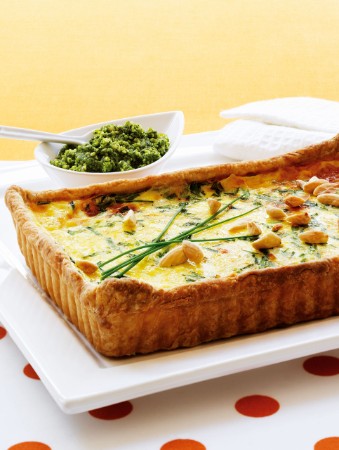 Vidalia Onion Tart with Spinach Pesto
Early Summer 2008
BY: Marilyn Bentz-Crowley
Enjoy now because by mid-summer, sweet onions such as Vidalia or Texas 1215 are gone from the market until next year. Slightly salty spinach pesto is a delicious foil to the sweet onions. For perfect pastry, correctly measure flour by stirring, spooning into measure and levelling; never scoop up flour directly into a measure―it packs in too much!
Classic Pâté Brisée Pastry
1 cup (250 mL) all-purpose flour
¼ cup (50 mL) cake and pastry flour
½ tsp (2 mL) salt
¼ cup (50 mL) cold unsalted butter
3 tbsp (45 mL) cold lard or vegetable shortening
4 to 5 tbsp (60 to 75 mL) ice-cold water

Filling
2 medium Vidalia onions
1 tbsp (15 mL) butter
1 tsp (5 mL chopped fresh thyme
¾ cup (175 mL) 18% cream
3 eggs
¼ tsp (1 mL) salt
¼ tsp (1 mL) freshly ground black pepper
Several fresh gratings of nutmeg
1 cup (250 mL) grated Gruyère or Swiss cheese
¼ cup (50 mL) snipped chives

Spinach Pesto
¼ cup (50 mL) toasted almonds, natural or blanched
2 cups (500 mL) lightly packed spinach leaves
1 small clove garlic
½ tsp (2 mL) coarse salt
¼ cup (50 mL) extra virgin olive oil
¼ cup (50 mL) grated Parmigiano-Reggiano

Garnish
Slivered almonds, toasted, or snipped chives
1. Stir flours with salt. Coarsely grate butter and shortening into flour mixture or cut in with pastry cutter; toss with fingers to distribute evenly. Stir in 4 tbsp (60 mL) water with a fork. Knead lightly with hands to form into a ball, adding remaining tbsp (15 mL) of water if needed. Flatten, cover with plastic wrap and refrigerate 1 hour or up to a day.

2. Roll out chilled pastry on a floured surface until about 12-inches (28-cm) in diameter. Line a 10-inch (25-cm) tart pan with removable bottom, folding excess pastry up sides. Press pastry well above edge of pan. Refrigerate an hour or covered, up to a day. Then for extra-flaky pastry, pop into freezer while preheating oven.

3. Preheat oven to 375°F (190°C).

4. Line tart shell with foil; generously add pie weights or coins to shell to prevent buckling. Bake 25 minutes; remove foil and weights. Continue baking another 15 to 20 minutes or until lightly golden. Cool completely on a rack. (Shell can be baked a day ahead; lightly cover with waxed paper and leave at room temperature.)

5. Meanwhile, finely slice onions; there should be about 4 cups (1 L). Heat butter in a large frying pan over medium-low heat. Add onions; cover and cook 15 minutes or until onions are softened. Remove cover; continue cooking, stirring occasionally, for 15 to 20 minutes or until onions are about a quarter of their original volume and most liquid seems to be gone. Adjust heat as needed to avoid browning onions. Remove from heat; stir in thyme. Cool completely.

6. Increase oven temperature to 400°F (200°C).

7. Stir cream with eggs, salt, pepper and nutmeg. Spread onions evenly in pastry; sprinkle with cheese and chives. Pour over cream mixture.

8. Bake in oven centre for 20 to 25 minutes or until tart seems set and is golden in colour.

9. To make pesto, whirl almonds in blender or food processor until finely chopped. Coarsely chop spinach; add to almonds along with garlic and salt. Whirl until finely chopped. Add olive oil; whirl until a fine paste. Lastly, briefly whirl in cheese.

10. Serve tart hot, warm or room temperature with a dollop of spinach pesto overtop. Garnish with toasted slivered almonds or a scattering of snipped chives. Fresh fruit or tossed green salad is terrific on the side.
SHARE