Venison and Wild Mushroom Pie
Automne 2007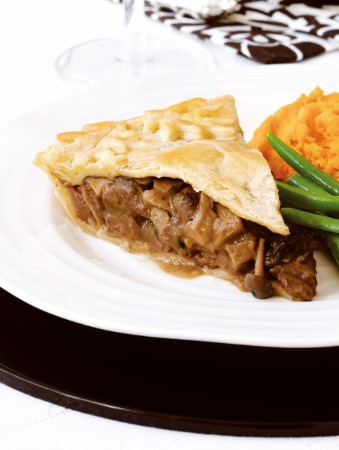 Venison and Wild Mushroom Pie
Automne 2007
BY: Lucy Waverman
The strong flavour of venison and the rich earthiness of wild mushrooms come together in this pie that can be assembled entirely in advance and baked when needed. Beef can easily replace the venison.
1 lb (500 g) venison, cut into ½-inch (1-cm) dice
Salt and freshly ground pepper
¼ cup (50 mL) vegetable oil
2 medium onions, diced
2 tsp (10 mL) chopped garlic
¼ tsp (1 mL) dried thyme
¼ tsp (1 mL) dried marjoram
1 lb (500 g) wild mushrooms, cleaned and sliced (use variety of mushrooms)
¼ cup (50 mL) all-purpose flour
½ cup (125 mL) dark lager (try King Brewery Dark Lager)
2 cups (500 mL) venison or beef stock
1 lb (500 g) frozen puff pastry, defrosted
1 egg, beaten
2 tbsp (25 mL) milk
1. Season venison with salt and pepper.

2. Add 2 tbsp (25 mL) oil to a large, heavy-bottom pot over medium-high heat, and heat until just smoking. Add venison and cook for 3 to 4 minutes or until browned all over. Remove venison with a slotted spoon and set aside.

3. Return the pot to the element, reduce heat to medium and add onion, garlic and herbs and cook for 3 minutes or until browned. Add mushrooms, cover and cook, stirring occasionally for 3 minutes or until juicy. Add remaining 2 tbsp (25 mL) oil to pan and stir in flour to coat mushrooms. Add beer and then the stock, stirring each time so that the paste is incorporated into the liquid. Return venison to the pot, bring to a boil, cover and reduce heat to low. Simmer for 1 hour or until the venison is tender and sauce is thick. If too thick add a little extra stock.

4. Preheat oven to 375°F (190°C).

5. Divide frozen puff pastry into 2 pieces. Roll out to make a top and bottom crust to fit a 9-inch (23-cm) pie shell.

6. Beat together beaten egg and milk to make an egg wash. Fill pie shell with the venison mixture, brush the edges with the egg wash. Top with remaining pastry and press to seal edges. Cut a few slits in the top to allow steam to escape. Brush the pastry top with more wash and bake for 30 to 35 minutes or until pastry is golden brown and mixture is bubbling.
SHARE