Venison Stew with Juniper Berries & Gin
Spring 2014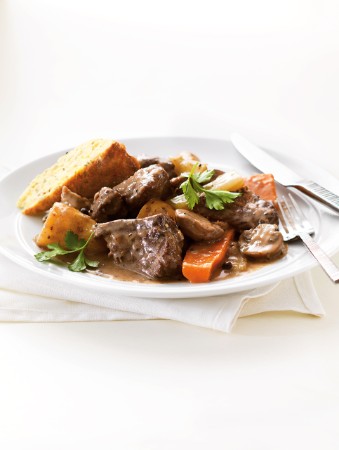 Venison Stew with Juniper Berries & Gin
Spring 2014
BY: Signe Langford
Juniper berries are what makes gin gin. Without them and all the other botanicals that go into the still, it's just a neutral spirit like vodka. In this flavourful stew, the dried berries often, and biting down on one releases a wonderfully sweet piney blast that's just perfect with the richness of the venison. Venison is a catch-all term, encompassing elk, deer, moose and caribou. Elk is farmed in Ontario and is fairly easy to find.
Bouquet Garni (recipe follows)
½ cup (125 mL) flour
2 lbs (1 kg) stewing venison,cut in 2 inch (5 cm) cubes
2 tbsp (30 mL) vegetable or olive oil
2 tbsp (30 mL) butter
1 large red onion, coarsely chopped
3 carrots, peeled, cut in half lengthwise, then cut into 3 inch (8 cm) lengths
3 celery ribs, cut in half lengthwise, then into about 3 inch (8 cm) lengths
1 lb (500 g) new or fingerling baby potatoes, any colour, scrubbed not peeled, cut in half
1 lb (500 g) small button mushrooms, caps wiped clean, cut in half
½ cup (125 mL) frozen or fresh lingonberries, sloe (blackthorn) berries or blueberries
12 dried juniper berries
1 tsp (5 mL) sea salt
½ tsp (2 mL) ground black pepper
1 tsp (5 mL) dried thyme
1 tsp (5 mL) nigella seed
1 tsp (5 mL) anise seed
1 bay leaf
1 cup (250 mL) dry white wine
⅓ cup (80 mL) Victoria gin
2 cups (500 mL) chicken stock
1 Make the Bouquet Garni and set aside.

2 Add flour and venison cubes to a freezer or paper lunch bag, close the top, shake to coat the meat with flour. Discard any remaining flour not stuck to the meat.

3 Into a large Dutch oven over medium-high heat, add the oil and butter. When fat is hot, add the venison cubes in batches, a few pieces at a time, shaking off any extra flour. Do not crowd the pan. Fry on all sides until browned. As they brown, remove from the pot and set aside on a plate. Repeat until all the venison is browned and set aside.

4 Turn the heat down to medium or medium-low, add the onion, carrot, celery, potato, mushrooms, lingonberries and juniper berries. Stir gently but often (to prevent burning) for about 5 minutes or until onion is translucent and slightly soft.

5 Add the salt, pepper, thyme, nigella, anise and bay leaf, and stir. Add the meat and its juices back into the pot and stir. Add the wine, gin, stock and stir. Push the Bouquet Garni down into the stew; cover and reduce heat to low. Let simmer for about 50 minutes, stirring often to prevent sticking and burning. Taste and adjust for salt and pepper, if need be.

6 Remove lid and simmer uncovered for about another 15 minutes or until veggies are tender and the sauce has thickened.

7 Remove and discard the Bouquet Garni and bay leaf before serving.

BOUQUET GARNI

Place 1 vanilla bean pod, 1 piece of cinnamon stick about 1 inch (2.5 cm), 1 tsp (5 mL) grains of paradise (optional), 12 dried juniper berries, 1 star anise, 2 green cardamom pods, 3 strips orange peel about 3 inches (8 cm) each, 4 cloves and 4 sprigs of savoury in the centre of a square of cheesecloth, and gather up into a coin purse shape. Tie the top with kitchen twine.
SHARE