Velvety Beet Soup
Temps des Fêtes 2016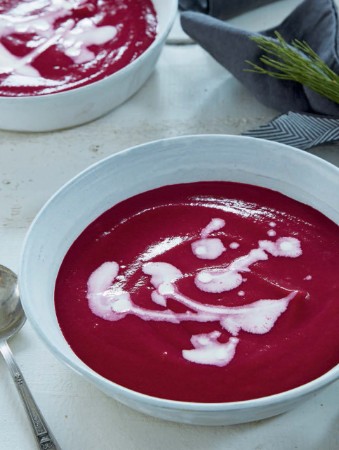 Velvety Beet Soup
Temps des Fêtes 2016
BY: Jennifer MacKenzie
The simplicity of this soup is what makes it shine—that and the velvety texture and stunning colour. Make the soup a few days ahead so the messy steps are out of the way, then reheat and add the cream just before serving. The cream can be left out for those who prefer. For an extra-velvety texture, take a tip from pro chefs and use an upright blender, pass the puréed soup through a sieve, then purée it a second time (it's not necessary but does make it even smoother).
1 tbsp (15 mL) butter
1 onion, chopped
Salt and freshly ground pepper
6 large beets, about 2 lbs (1 kg), peeled and chopped
1 medium yellow-flesh or russet potato, peeled and chopped
4 cups (1 L) vegetable or chicken broth
2 cups (500 mL) water
2 tbsp (30 mL) red wine vinegar
¾ cup (175 mL) 35% whipping cream
1 Melt butter in a large pot over medium heat. Sauté onion, 1 tsp (5 mL) salt and ½ tsp (2 mL) pepper for about 5 minutes or until softened.

2 Stir in beets, potatoes, broth and water. Cover and bring to a boil. Reduce heat to medium-low and boil gently for about 40 minutes or until beets are soft. Stir in red wine vinegar.

3 Let cool slightly. Transfer in batches to a blender and purée (see TIP) until smooth (or use an immersion blender in the pot). If desired, let cool, then refrigerate in an airtight container for up to 3 days.

4 Just before serving, whisk whipping cream until slightly thickened. Reheat soup over medium-high heat, stirring often, until steaming. Stir about three-quarters of the thickened cream into soup until blended. Season to taste with salt and pepper.

5 Ladle soup into warmed bowls and drizzle with remaining cream.
TIP When puréeing hot soup (especially deep-coloured beet soup), hold a tea towel over the lid of the blender to prevent any splatter from burning your hands and making a mess.
SHARE