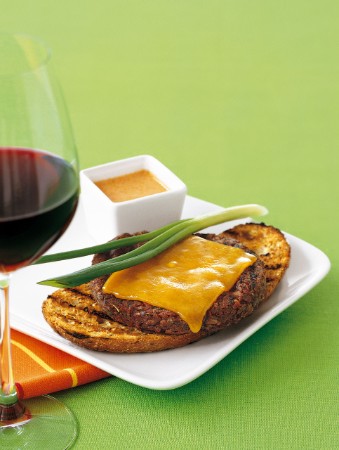 BY: Lucy Waverman
Dried Japanese panko bread crumbs have a coarser, larger flake than regular ones. Although the burgers work with dried breadcrumbs, the texture is better with panko. If you use red kidney beans for this recipe, add an extra 1/3 cup (75 mL) panko to the mixture.
1/4 cup (50 mL) olive oil
1 cup (250 mL) finely chopped red onion
1 tbsp (15 mL) chopped garlic
One 19 oz (540 mL) can chickpeas, drained and rinsed,
or red kidney beans
1/2 cup (125 mL) toasted pecans (see Tips)
1 egg
1/4 cup (50 mL) Japanese panko breadcrumbs (see Tips)
1/2 cup (125 mL) finely chopped fresh parsley
1 tbsp (15 mL) finely chopped fresh rosemary, or 1 tsp (5 mL) dried
1 tbsp (15 mL) grated lemon rind
1 tsp (5 mL) Asian chili sauce
Salt and freshly ground pepper
Olive oil for brushing burger
4 oz (125 g) old cheddar, sliced
4 whole wheat or sourdough buns
1. Add 1 tbsp (15 mL) oil to a skillet over medium heat. Sauté onions and garlic for 2 minutes or until softened.

2. Purée chickpeas, pecans, remaining olive oil and egg in food processor until almost smooth. Transfer to a large bowl and stir in panko.

3. Stir sautéed onions and garlic into panko mixture along with parsley, rosemary, lemon rind and chilli sauce. Season with salt and pepper to taste.

4. Form into 4 patties about 1-inch (2.5-cm) thick.

5. Preheat grill pan or grill to medium-high heat. Brush patties with oil and grill 3 to 4 minutes per side. Place on rolls and top each burger with cheese and Red Pepper Rouille (recipe follows).

Tips

To toast pecans, bake nuts on a baking sheet in a 350ºF (180ºC) oven for 5 to 8 minutes or until fragrant.

To make your own panko, make coarse large flaked breadcrumbs from white bread in the food processor. Bake in a 350ºF (180ºC) oven for 10 minutes or until slightly dried.

Red Pepper Rouille
2 red peppers
1 jalapeño pepper
2 cloves garlic, finely chopped
½ cup (125 mL) yogurt
1 tbsp (15 mL) olive oil
Salt to taste
1. Cut red peppers and jalapeño peppers in half and remove seeds. Place cut-side down on a baking sheet and bake at 425ºF (220ºC) for 15 minutes, remove jalapeño and continue to bake until the pepper's skin blisters. Cool slightly and peel off skin.

2. Add peppers, garlic, yogurt and oil to a food processor or blender and purée until smooth. Taste for seasoning, adding salt if needed. Serve with Veggie Burger.
SHARE