Vegetable-Fusilli Bake with Ricotta Topping
Winter 2009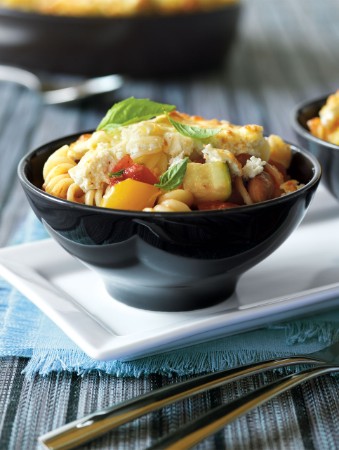 Vegetable-Fusilli Bake with Ricotta Topping
Winter 2009
BY: Julia Aitken
This hearty one-dish meal has all the flavours of a lasagna without the fuss. Use regular (10% or 13%) ricotta for the topping; lower-fat versions may curdle.
2 tbsp (25 mL) olive oil
1 large onion, chopped
1 yellow sweet pepper, seeded and cut into ½ inch (1 cm) pieces
1 zucchini, cut into ½ inch (1 cm) pieces
1 medium carrot, shredded
4 cloves garlic, minced
½ tsp (2 mL) each salt, freshly ground black pepper and granulated sugar
¼ tsp (1 mL) hot pepper flakes
1 can (796 mL) diced tomatoes
¼ cup (50 mL) tomato paste
1 cup (250 mL) drained and rinsed canned romano beans
¼ cup (50 mL) each chopped fresh parsley and slivered basil leaves
3 cups (750 mL) fusilli pasta

Topping
2 eggs
1 container (454 g) regular ricotta cheese
¼ tsp (1 mL) each salt, freshly ground black pepper and grated nutmeg
½ cup (125 mL) freshly grated Parmesan cheese
1. In a large, deep skillet, heat oil over medium heat. Add onion, sweet pepper, zucchini and carrot; cook, stirring occasionally, for 8 to 10 minutes until vegetables are just tender but not browned. Stir in garlic, salt, pepper, sugar and hot pepper flakes; cook, stirring, for 1 minute.

2. Stir in tomatoes (with their juice) and tomato paste. Bring to a boil over medium-high heat. Reduce heat to medium-low; simmer, uncovered, for 10 minutes until slightly thickened. Stir in beans, parsley and basil. Season with salt and pepper to taste.

3. Meanwhile, preheat the oven to 350ºF (180ºC).

4. In a large pot of boiling salted water, cook fusilli for about 8 minutes until tender but firm. Drain well; do not rinse.

5. Spoon half of fusilli into a lightly oiled 10-cup (2.5-L) baking dish. Spoon vegetable mixture over fusilli; top with remaining fusilli.

6. For topping, lightly beat eggs in a medium bowl. Whisk in ricotta, salt, pepper and nutmeg until well combined. Pour ricotta mixture over fusilli to cover it completely; sprinkle evenly with Parmesan. Bake, uncovered, for 35 to 40 minutes until bubbly and golden brown. Let stand for 10 minutes before serving.
SHARE