Vegetable Stock
Winter 2010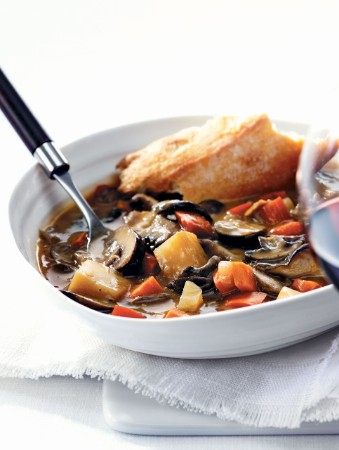 Vegetable Stock
Winter 2010
BY: Nettie Cronish
Vegetable stocks are not just for vegetarians. Whether you're making a spicy Asian curry, a brothy Mediterranean soup or a hearty vegetable stew, vegetable broths make a delicious base by adding flavour from the very beginning. Broth keeps for 5 days in the refrigerator. I freeze this stock in an old-fashioned icecube tray. Each cube yields 2 tbsp (25 mL) of stock, a flavourful addition to stir-fries.
2 tbsp (25 mL) extra virgin olive oil
2 tbsp (25 mL) chopped garlic
2 medium onions, sliced thinly
2 leeks (white part only) sliced thinly and washed
4 medium carrots, cut into 1 inch (2.5 cm) rounds
1 large potato, cut into 1 inch (2.5 cm) rounds
4 celery stalks, cut into 1 inch (2.5 cm) rounds
6 medium tomatoes, quartered, or 1 can (398 mL) diced tomatoes
½ lb (250 g) button mushrooms, wiped and thinly sliced
⅔ cup (150 mL) dry green lentils
6 sprigs fresh parsley
4 sprigs fresh basil
4 bay leaves
2 tsp (10 mL) sea salt
½ tsp (2 mL) black peppercorns
10 cups (2.5 L) water
1. Heat oil in a large 3 to 4 quart (3 to 4 L) saucepan over medium heat. Add garlic, onions and leeks. Cook for 5 minutes, or until softened, uncovered.

2. Stir in carrots, potato and celery; cook for 8 minutes, stirring occasionally, uncovered.

3. Add tomatoes, mushrooms, lentils, parsley, basil, bay leaves, salt and pepper. Cover with water. Bring to a boil.

4. Reduce heat to low; simmer, covered, for 30 minutes, stirring often.

5. Strain through fine sieve, pressing against vegetable mixture with back of large wooden spoon to extract all the liquid. Discard solids. Cool before storing, covered, in refrigerator or freezer.
SHARE