Vegetable Antipasto
Temps des Fêtes 2009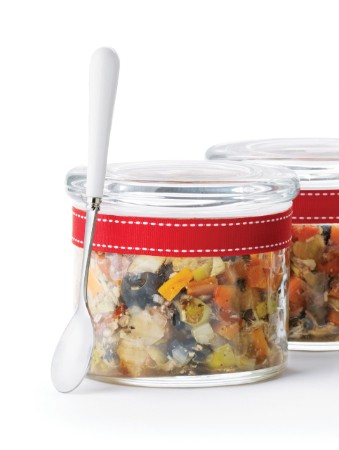 Vegetable Antipasto
Temps des Fêtes 2009
BY: Nicole Young
This colourful antipasto should be given in glass jars or containers. It can be pulsed in the food processor a few times to give it a more spread-like consistency if desired. It is ideal as a topping for crostini, pizzas and sandwiches.
Marinade
1 clove garlic, minced
¼ cup (50 mL) aged balsamic vinegar
½ tsp (2 mL) dried rosemary
1 tsp (5 mL) dried basil, crumbled
1 tsp (5 mL) dried oregano
½ tsp (2 mL) red pepper flakes (optional)
½ cup (125 mL) olive oil
4 cups (1 L) peeled, diced carrots
2 cups (500 mL) diced fennel bulb
½ cup (125 mL) minced shallots
2 cups (500 mL) diced roasted red and yellow bell peppers
½ cup (125 mL) sliced jarred peperoncini peppers
1 cup (250 mL) black olives, chopped
1 cup (250 mL) pimento stuffed olives, chopped
1 cup (250 mL) diced marinated artichoke hearts
½ cup (125 mL) sun-dried tomatoes, sliced
¼ cup (50 mL) grated Parmesan
1. In a measuring cup or bowl, whisk together garlic, balsamic, rosemary, basil, oregano, red pepper flakes and olive oil until well blended. Set aside.

2. In a large saucepan, bring water to boil over high heat. Add carrots and fennel all at once, and cook until the vegetables are tender-crisp, about 3 minutes. Drain and pour them directly into a large bowl of ice water until completely cool. Drain well.

3. In a large bowl, combine carrots, fennel, shallots, roasted peppers, jarred peppers, black olives, stuffed olives, artichokes, sundried tomatoes and Parmesan. Pour marinade over vegetables and stir to coat completely. Cover and refrigerate for at least 12 hours and up to 1 week.

4. Spoon into glass jars fitted with a tight lid.
SHARE