Vegan Enoki Mushrooms with Purple Slaw & Jasmine Rice
Autumn 2019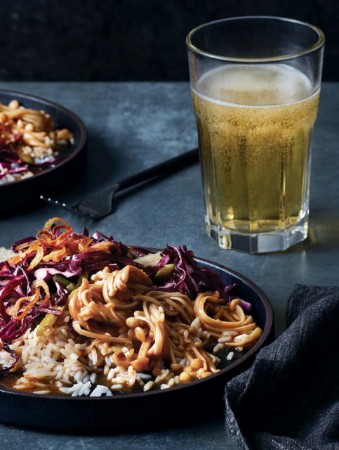 Vegan Enoki Mushrooms with Purple Slaw & Jasmine Rice
Autumn 2019
BY: Amy Rosen
Full of saucy, nuanced umami goodness, the Japanese-inspired sides round out this mushroom main to make for a satisfying meal.
JASMINE RICE
1 cup (250 mL) water
½ cup (125 mL) Jasmine rice, rinsed
PURPLE SLAW
1 tsp (5 mL) sugar
2 tsp (10 mL) less-sodium soy sauce
1 tsp (5 mL) canola oil
2 tbsp (30 mL) rice wine vinegar
¼ tsp (1 mL) toasted sesame oil
½ small head purple cabbage, about 3 cups (750 mL), shredded
2 celery stalks, thinly sliced
2 tbsp (30 mL) black sesame seeds
3 tbsp (45 mL) crispy fried shallots
ENOKI MUSHROOMS
2 pkgs (100 g each) enoki mushrooms
1 tbsp (15 mL) sake
1 tbsp (15 mL) soy sauce
1 tbsp (15 mL) while miso paste
2 tsp (10 mL) mirin
1 tsp (5 mL) grated fresh ginger
1 tsp (5 mL) sugar
3 green onions, trimmed and cut into thirds
1 tsp (5 mL) canola oil
1 Preheat oven to 400°F (200°C).
2 To make rice, in a medium saucepan bring 1 cup (250 mL) of water to a boil, add rice, stir and cover. Lower to a gentle simmer for 15 minutes. Remove from heat, fluff rice with a fork and cover for 5 minutes.
3 For the slaw, combine sugar, soy sauce, canola oil, vinegar and sesame oil in a medium bowl and whisk to combine. Add cabbage, celery and black sesame, and toss together in dressing. Top with crispy shallots and set aside.
4 Trim woodsy ends off of enokis and wash mushrooms. Pull them apart in strands, so there aren't any large clumps.
5 In a small bowl, whisk together sake, soy, miso paste, mirin, ginger and sugar until smooth.
6 On a large rectangle of foil, spread out mushrooms and green onions in a row and pour prepared mixture overtop, tossing lightly until covered. Drizzle with canola oil. Seal in a tight foil package and place on a baking sheet. Bake in preheated oven for 20 minutes.
7 Serve with rice and slaw, spooning some of the sauce over mushrooms and rice.


SHARE