Veal on Baguette with Tonnato Sauce
Holiday 2009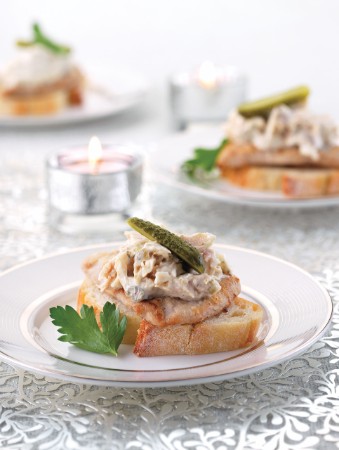 Veal on Baguette with Tonnato Sauce
Holiday 2009
BY: Marilyn Bentz-Crowley
A classic Italian entrée is presented here as a nibble. This timeless pairing is protein-rich, satisfying and quite simple to prepare—oh, and divinely delicious too!
8 oz (250 g) veal or pork scaloppine
Salt
Freshly ground black pepper
¼ cup (50 mL) all-purpose flour
3 to 4 tbsp (45 to 60 mL) olive oil
1 can flaked white tuna, packed in water,
6 oz (170 g)
¼ cup (50 mL) mayonnaise, preferably olive oil variety
½ tsp (2 mL) anchovy paste
½ tsp (2 mL) Dijon mustard
1 tbsp (15 mL) drained capers, minced
½ tsp (2 mL) fine lemon zest
1 tbsp (15 mL) finely chopped fresh parsley
12 mini-gherkins
1 large artisan-style baguette
Several sprigs fresh parsley
1. Place each cutlet between 2 sheets of plastic wrap; pound with flat side of a meat pounder or skillet bottom until flattened and evenly thin. Add a pinch of salt and a generous pinch of freshly ground black pepper to flour. Spread meat on a plate.

2. Lightly flour veal, shaking off any excess; discard remaining flour. Heat 2 tbsp (25 mL) oil in large frying pan over medium to medium-high heat. Add some veal to pan; do not crowd. Sauté in batches for 1 to 2 minutes per side or until lightly golden. Add more oil as needed. Cool, cover and refrigerate for up to 2 days.

3. Drain tuna well; flake. In a bowl, stir mayonnaise with anchovy, mustard, capers, zest and black pepper. Stir in tuna and parsley. Cover and refrigerate for up to a day.

4. When ready to serve, slice gherkins in half length wise. Slice 24 pieces of baguette, crosswise, each about ½ inch (1 cm) thick. Slice cutlets into portions to match size of baguette pieces.

5. Lay veal on baguette slice. Top with a spoonful of tonnato sauce, a gherkin and a single parsley leaf. Serve immediately.
SHARE