Veal Blanquette
Autumn 2013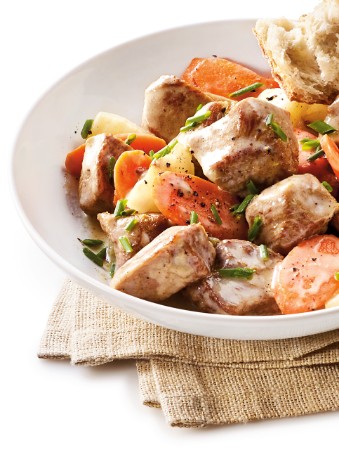 Veal Blanquette
Autumn 2013
BY: Lucy Waverman
This recipe was selected as one of our Contributor's favourites in our 20th Anniversary Autumn 2013 issue. The recipe originally appeared in the Autumn 2009 issue.

Traditionally, Veal Blanquette is a white stew where the meat is blanched in boiling water before cooking. I prefer to brown the meat and have the braise a darker colour. You will need 1 large fennel bulb for the whole recipe. Divide it as per recipe ingredients. Orzo or a smaller pasta noodle is the perfect accompaniment with this dish.
2 lbs (1 kg) veal, cut in 2 inch (5 cm) cubes
Salt and freshly ground pepper
2 tbsp (25 mL) unsalted butter
1 tbsp (15 mL) vegetable oil
1 cup (250 mL) coarsely chopped leeks,
white part only
1 cup (250 mL) diced carrot
1 cup (250 mL) diced fennel
1 tsp (5 mL) chopped garlic
1 cup (250 mL) white wine
3 cups (750 mL) chicken stock
1 bay leaf
1 tsp (5 mL) fresh thyme
2 pieces parsley stalks, 4 inches (10 cm),
leaves removed

VEGETABLE GARNISH
1 cup (250 mL) thinly sliced carrots
Remaining fennel bulb,
cut in 1 inch (2.5 cm) pieces
12 cipollini onions, stem end cut off
2 tbsp (25 mL) butter

SAUCE
½ cup (125 mL) whipping cream
2 tbsp (25 mL) chopped chives
1 Preheat oven to 325°F (160°C).

2 Season veal with salt and pepper.

3 Heat butter and oil in a Dutch oven over medium heat. Add veal and, working in batches, fry until pale gold, about 1 minute per side. Remove meat and reserve.

4 Add leeks, carrot and fennel and sauté until softened, about 2 minutes. Add garlic and stir together. Add wine, scraping up any brown bits from the base of the pot. Bring to boil and boil for 3 minutes or until wine is reduced by half. Add stock and stir together. Stir in bay leaf, thyme and parsley stalks and bring to a boil. Return veal to pot.

5 Bake, covered for 1½ hours or until veal is just about tender. Remove lid and bake another 30 minutes.

6 While veal is baking, bring a pot of water to boil. Add carrots and fennel and blanch for 2 minutes or until nearly tender. Add onions and boil another 3 minutes. Drain and cool. Slip off the skins from the onions, trim root end and cut in half.

7 Heat butter in a large skillet over medium heat. Add vegetable garnish and cook for 5 minutes or until slightly browned. Season with salt and pepper and reserve.

8 Remove veal from pot and combine with vegetable garnish. Strain sauce (discarding vegetables and seasoning) back into pot. Add cream and reduce for 7 to 10 minutes or until sauce is rich and slightly thickened. Season with salt and pepper to taste. Reduce heat to low, add veal and vegetable garnish into sauce and cook together until everything is hot, about 10 minutes. Garnish with chives.
SHARE