Ultimate Mac 'n' Cheese: Lobster Carbonara for Two
Winter 2013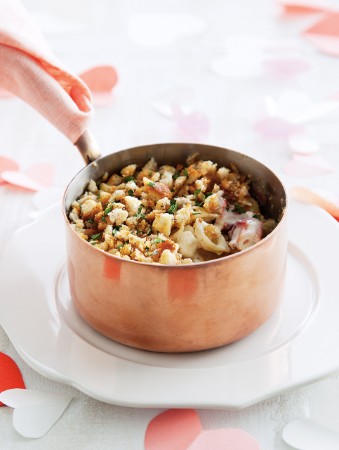 Ultimate Mac 'n' Cheese: Lobster Carbonara for Two
Winter 2013
BY: Christopher St. Onge
Sure, no true Italian would ever combine cheese and seafood, but rules are clearly meant to broken where love is concerned. Suitably over-the-top, these individual pots of luxe comfort food are baked in small, personal versions of lidded casseroles known as cocottes. Don't worry, however, if you don't have them in your cupboards. It's equally delicious made in a common loaf pan, though you'll need to divide it in two once it's cooked.
8 oz (250 g) small shell pasta
1½ lbs (750 g) whole cooked lobster
¼ cup (60 mL) smooth-style ricotta cheese
1 egg yolk
1 tsp (5 mL) olive oil
2 oz (60 g) thinly sliced pancetta, cut into ½ inch (1 cm) pieces
2 tsp (10 mL) all-purpose flour
1 cup (250 mL) 18% table cream
½ cup (125 mL) finely grated Parmesan
¼ cup (60 mL) finely grated Pecorino Romano
Salt and freshly ground pepper
½ cup (125 mL) coarsely grated Gruyère
1 cup (250 mL) coarse bread crumbs (see Tip below)
1 tbsp (15 mL) butter, melted
Pinch cayenne
1 Preheat oven to 375°F (190°C).

2 Cook pasta according to package directions in plenty of salted boiling water. Drain, rinse under running water, and allow to cool while preparing sauce.

3 Remove the meat from the lobster by first removing the tail from the body (with tail in one hand and the body in the other, bend tail towards lobster's back to separate). Pull fins from the end of the tail and discard. (Empty shells, including the body of the lobster, can be frozen for use in stock or soup if you wish.) Hold tail firmly in the palm of your hand, and using a fork push against meat from the fin end to force through the wider end. Set meat aside.

4 Separate the claws by twisting the knuckle joint next to the body. Using a lobster cracker, or the blunt side of a chef's knife, crack claw and knuckle shells. Using a fork, extract claw and knuckle meat from shells (meat does not need to come out in one piece). Clean the claw meat off the butterfly-shaped cartilage and, along with the tail meat, roughly chop into generously sized chunks. Reserve.

5 In a large mixing bowl, whisk together ricotta and egg yolk. Set aside.

6 Heat oil in a small saucepan over medium heat. Fry pancetta for 2 to 3 minutes, or until just beginning to crisp. Sprinkle flour into pot and stir until no lumps remain. Add cream to pan and, whisking constantly, bring to a boil. Remove from heat. Stir in Parmesan and Pecorino Romano. Season to taste with salt and freshly ground pepper. Slowly whisk into ricotta mixture. Fold in lobster meat and cooked pasta. Sprinkle Gruyère overtop and lightly mix to somewhat distribute (partial mixing ensures pockets of stringy melted cheese). Divide between two 3-cup (750-mL) cocottes or saucepans(or one 8 x 4-inch/1.5 L loaf pan).

7 Combine bread crumbs, butter and cayenne; season with salt and freshly ground pepper. Top each cocotte with an equal portion of crumbs (or, if using loaf pan, evenly distribute all of the crumbs to the one pan) and bake, uncovered, for 30 to 35 minutes or topping is golden and pasta is hot. Allow to cool for 5 minutes. Serve on side plates with the lids slightly ajar.

Tip To make coarse bread crumbs, roughly chop day-old Italian bread and place in bowl
of food processor. Pulse until coarsely ground with some larger pieces, about ½-inch-wide (1-cm), remaining.
SHARE