Turmeric, Miso & Ginger Soup
Spring 2018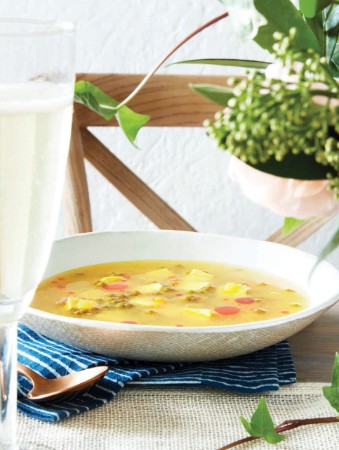 Turmeric, Miso & Ginger Soup
Spring 2018
BY: Christopher St. Onge
Twenty-first-century healthy cooking has given rise to some interesting twists on old classics. One of my favorites is turmeric-spiked miso soup. The earthy, peppery notes of turmeric are delicious in combination with miso, ginger and a squeeze of lemon. If you want to make the soup more of a meal rather than a light course, double both the mung beans and the tofu. And do try to make your own vegetable stock—it's easy and really good. Culinary mustard oil is quite different from the essential oil.
½ cup (125 mL) dried mung beans
1 tbsp (15 mL) coconut or olive oil
1 small onion, chopped
2 tbsp (30 mL) finely chopped ginger
2 cloves garlic, finely chopped
2 tsp (10 mL) ground turmeric
2 cups (500 mL) good quality vegetable stock, preferably homemade (recipe follows)
4 cups (1 L) water
¼ cup (60 mL) white miso
1 tbsp (15 mL) lemon juice
1 cup (250 mL) drained, diced medium-firm tofu
Salt and freshly ground pepper
Sesame oil, pressed mustard oil, or chili oil to garnish
1. Cook mung beans in plenty of boiling salted water for 30 to 35 minutes or until broken apart and tender; drain and set aside.

2. In a large pot, heat coconut oil over medium heat; cook onion until translucent, about 5 minutes. Stir in ginger and garlic; cook 1 minute longer. Sprinkle turmeric over and combine. Whisk in vegetable stock and water. Bring to a boil, reduce heat and simmer for 20 minutes.

3. Remove a few spoonfuls of soup stock to a small heatproof bowl, add miso and stir to loosen. Add to pot along with lemon juice, tofu and the reserved mung beans. Give it all a good stir, check for seasoning and remove from heat.

4. Divide between 6 bowls and garnish each with a few drops of the oil of your choosing.
VEGETABLE STOCK

This mushroom-forward vegetable stock is so good you may find yourself sipping it out of a mug as is. It's made without strongly flavoured herbs, making it an ideal all-purpose vegetarian stock.

1 tbsp (15 mL) olive oil
1 onion, peeled and roughly chopped
1 medium carrot, roughly chopped
1 stalk celery, roughly chopped
1 small head fennel, roughly chopped
12 oz (375 g) white mushrooms, roughly chopped
8 cups (2 L) water
Small head garlic, halved to expose cloves
1½ tsp (7 mL) salt
½ tsp (2 mL) black peppercorns
1. Heat oil in a large pot over medium heat. Add vegetables and cook, stirring frequently, for 8 to 10 minutes (don't let vegetables brown) or until mushrooms are tender. Pour water over; add garlic, salt and peppercorns. Bring to a gentle boil and cook, uncovered, for 1 hour or until liquid is reduced to 4 cups (1 L). Strain (discard solids) and refrigerate for up to 5 days or use right away.
SHARE