Turkey Rueben Sandwich
Holiday 2005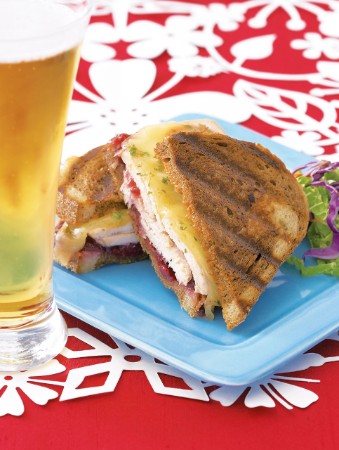 Turkey Rueben Sandwich
Holiday 2005
BY: Emily Richards
Serve this deli-style sandwich with tangy coleslaw for lunch or as a light dinner idea (a break from hearty holiday meals). Keep your leftover turkey meat in an airtight container in slices or large pieces so you can chop or shred it, as you need it. Use a sweet tomato-based chili sauce for the recipe.
3 tbsp (45 mL) butter, softened
8 slices dark rye bread
¾ cup (175 mL) cranberry sauce
3 tbsp (45 mL) light mayonnaise
2 tbsp (25 mL) chili sauce
1 tbsp (15 mL) chopped fresh Italian parsley
12 oz (375 g) cooked turkey slices or 2½ cups (625 mL) shredded cooked turkey
4 slices Swiss cheese
1. Spread butter on 1 side of each slice of bread and place, butter-side down, on work surface. Spread cranberry sauce evenly on 4 of the slices.

2. In a small bowl, stir together mayonnaise, chili sauce and parsley and spread over remaining bread slices. Divide turkey among cranberry topped slices. Top with cheese. Cover with remaining bread slices.

3. Place sandwich on panini press for about 5 minutes or until cheese melts. Alternately, place sandwiches in nonstick skillet over medium heat and place plate on top, weighed down with weights (a heavy can is fine). Cook, turning once, for about 6 minutes or until golden brown and crisp and cheese is melted. Cut each in half before serving.
SHARE