Turkey Roulade with Chestnut Stuffing & Brandy Gravy
Holiday 2017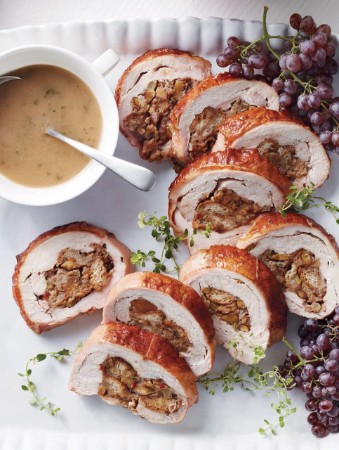 Turkey Roulade with Chestnut Stuffing & Brandy Gravy
Holiday 2017
BY: Amy Rosen
Don't be afraid to try something new. A turkey roulade filled with a savoury chestnut stuffing leaves room on the table for more simple sides. The turkey breast remains moist, the slicing is easy, and the drizzle of brandy gravy makes for an ooh la la feast.
STUFFING
1 tbsp (15 mL) unsalted butter
1 tbsp (15 mL) olive oil
1 small cooking onion, finely diced
2 ribs celery, finely diced
2 pkgs (each 100 g) peeled roasted chestnuts (such as Aurora brand organic), chopped
1 tsp (5 mL) poultry seasoning
½ tsp (2 mL) red pepper flakes
1 cup (250 mL) chicken stock
Salt to taste
2 cups (500 mL) plain croutons (homemade is best)
1 egg, beaten
1 tbsp (15 mL) fresh thyme

TURKEY
1 whole turkey breast, 4 to 5 lbs (2 to 2.2 kg), boned and butterflied and pounded to ½ inch (1 cm) thickness (have the butcher do this for you)
1 tsp (5 mL) sea salt
1 tsp (5 mL) black pepper
Butcher's twine
1 tbsp (15 mL) olive oil

GRAVY
1 cup (250 mL) chicken stock
¼ cup (60 mL) brandy
1 tsp (5 mL) cornstarch
1 tsp (5 mL) cold water
1 tsp (5 mL) Dijon mustard
1 tbsp (15 mL) fresh thyme
1 tbsp (15 mL) unsalted cold butter
1. Preheat the oven to 325°F (160°C). Place a baking rack on a baking sheet.

2. For stuffing, add the butter and oil to a large skillet over medium and heat until butter froths. Add onion and celery and sauté until translucent, about 4 minutes. Add chestnuts, seasonings and chicken stock and bring to a boil. Reduce the heat to low and simmer for 2 to 3 minutes. Taste for seasoning and add salt if needed.

3. Put the croutons in a large bowl. Pour the hot vegetable-chestnut-stock mixture over the croutons and mix well. Let sit for 10 minutes to allow stock to be absorbed into croutons, then stir and mash a bit with the back of a wooden spoon. Add egg and thyme and stir to combine. Set aside to cool. (You'll have just the right amount of stuffing to stuff the roulade. If you'd like more as a side dish, double the recipe and bake half in a small greased baking dish, alongside the turkey, for about 35 minutes.)

4. Lay the butterflied turkey breast skin-side down on a cutting board. Sprinkle the meat with 1 tsp (5 mL) salt and 1 tsp (5 mL) pepper. Evenly spread the stuffing in a ½-inch-thick (1-cm) layer over the meat, leaving a ½-inch (1-cm) border on all sides. Make sure not to mound it. Roll the turkey like a jelly roll (or a burrito, tucking in the ends). Tie the roast firmly with Butcher's twine every 2 inches (5 cm) to make a compact cylinder.

5. Place the stuffed turkey breast seam-side down on the rack on the baking sheet. Brush with olive oil, sprinkle with a bit more salt and pepper, and roast for 1¾ to 2 hours, until an instant- read thermometer registers 150°F (65°C) in the centre. Tent with foil and allow to rest at room temperature for 15 minutes.

6. For gravy, to a small saucepan over medium-high heat, add the chicken stock and brandy. Bring to a boil then lower to a simmer until mixture is noticeably reduced (about 10 minutes). Stir together cornstarch and water in a ramekin and whisk into sauce. Whisk in mustard and thyme and simmer for 2 minutes more. Turn off heat and whisk in butter. Taste for seasoning.

7. Once turkey has rested, snip and remove all kitchen twine. Slice roulade into nice even pieces and serve drizzled with gravy and Warm Green Lentils (recipe follows). Simple additions to round out the feast include a loaf of crusty sourdough baguette, steamed broccoli and wedges of seasoned hothouse tomatoes.
WARM GREEN LENTILS

I happen to know a lot of vegetarians and if there's one festive feast that leaves them in the cold—culinarily speaking—it's the holiday turkey. Yet it's so easy to be inclusive, especially when it comes to sides. I think everyone will enjoy this zesty twist on lentils, studded with parsnips, carrot, onion and a sherry vinaigrette.

2 tbsp (30 mL) olive oil
1 medium onion, finely diced
2 medium carrots, peeled and finely diced
2 medium parsnips, peeled and finely diced
2 cloves garlic, minced
Salt and pepper to taste
1 cup (250 mL) green lentils
4 cups (1 L) water
¼ cup (60 mL) extra virgin olive oil
1 tbsp (15 mL) Dijon mustard
3 tbsp (45 mL) sherry vinegar
2 tbsp (30 mL) fresh parsley, finely chopped
1. Heat olive oil in a medium sauté pan, add the onion, carrots and parsnips and cook over medium heat for 7 to 10 minutes, stirring often (add a splash of water if the pan gets too dry). Add the garlic and cook for 2 more minutes. Season to taste with salt and set aside.

2. Meanwhile, rinse lentils and place in a medium saucepan with 4 cups (1 L) water. Bring to a boil, then lower heat and simmer uncovered for 20 to 25 minutes, or until lentils are just tender. Drain lentils and season to taste with salt and pepper. Set aside.

3. In a large bowl, whisk together the ¼ cup (60 mL) extra virgin olive oil with mustard, vinegar, salt and pepper. Add the lentils, vegetable mixture and parsley and stir well. Re-taste for seasoning and adjust if necessary.
SHARE