Turkey & Stuffing Parcels
Automne 2014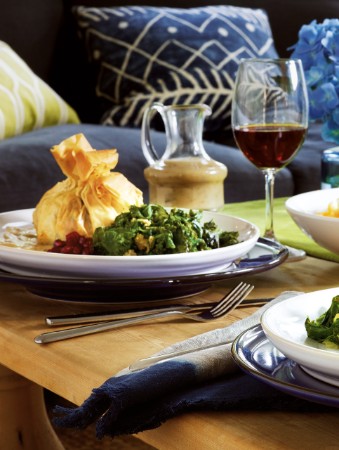 Turkey & Stuffing Parcels
Automne 2014
BY: Marilyn Bentz-Crowley
The stuffing below is delicious, and once tried, it likely will become a favourite recipe. If using the stuffing recipe in another manner, such as oven baking in a buttered covered dish, dampen the mixture with ½ to 1 cup (125 to 250 mL) chicken broth until it is moist but not sopping. These parcels can also be made with leftover stuffing and turkey from a larger meal. For easy cooked turkey, buy thickly sliced roast turkey at Costco or substitute chicken gleaned from a purchased whole roasted chicken.
STUFFING
¼ cup (60 mL) butter
¾ cup (175 mL) finely diced sweet onion or shallots
3 to 4 large cremini or button mushrooms, sliced
¼ cup (60 mL) finely chopped fresh parsley
1 tbsp (15 mL) finely chopped fresh sage, or 1 tsp (5 mL) dried
¼ to ½ tsp (1 to 2 mL) salt
¼ tsp (1 mL) freshly ground black pepper
4 cups (1 L) toasted fresh bread cubes, including crusts (see TIP)

PARCELS
8 sheets phyllo dough
4 to 6 tbsp (60 to 90 mL) butter, melted
2 cups (500 mL) chunks or small pieces of cooked turkey or chicken, about 4 oz (125 g)
1 To make stuffing, heat butter in a large saucepan over medium heat until bubbly. Add onion and mushrooms; cook 5 minutes or until softened. Stir in parsley, sage, ¼ tsp (1 mL) salt and pepper, then thoroughly mix in bread cubes. Remove from heat; taste and add remaining salt if needed. Cool; there should be a generous 4 cups (1 L).

2 To make parcels, lay 1 sheet of phyllo on work surface; brush with butter. Lay another sheet overtop; brush with butter.

3 With long side of the phyllo in front of you, mentally divide pastry into thirds. Use a chef's knife to cut off one-third crosswise, forming 2 pieces: a larger somewhat square piece and a narrow piece. Then place narrow piece in centre of larger piece. Your phyllo now has a "Canadian flag pattern" with 4 thicknesses of phyllo in centre and only 2 thicknesses on each side panel.

4 Divide filling evenly; lay about ½ cup (125 mL) turkey in centre. Firmly press 1 cup (250 mL) stuffing into a teacup-shaped dome overtop. Lifting 2 corners, bring up together above centre, pleat and bring up remaining 2 corners to meet. Firmly pinch edges into a gentle swirled topknot of gathered corners. Brush outsides of phyllo with butter. Transfer to baking sheet lined with parchment or ungreased foil.

5 Repeat with remaining stuffing and turkey. Lightly, but thoroughly, cover with plastic wrap and refrigerate until needed, up to a day. (Alternatively, parcels can be frozen. Defrost with wrappings still in place. Then continue with recipe.)

6 To serve, preheat oven to 350°F (180°C).

7 Place phyllo packages in oven. Bake 20 to 25 minutes or until richly golden and filling is hot. Serve immediately; passing gravy and cranberry sauce.

TIP Toast several bread slices in a toaster before making into cubes.
SHARE