Tuna with Herbed Vinaigrette
Été 2005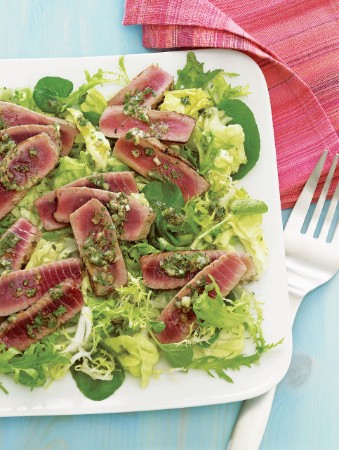 Tuna with Herbed Vinaigrette
Été 2005
BY: Jennifer McLagan
You have a choice of serving the tuna hot from the grill or at room temperature as a salad. Remember to let the tuna rest before slicing it and dress the lettuce just before serving.
4 anchovy fillets, rinsed
1 clove garlic, chopped
1 tbsp (15 mL) freshly squeezed lemon juice
1 tbsp (15 mL) red wine vinegar
½ cup (125 mL) olive oil
1 shallot, finely diced
1 tbsp (15 mL) salt-packed capers, rinsed and chopped
2 tbsp (25 mL) chopped parsley
1 tsp (5 mL) fresh thyme leaves
Salt and freshly ground pepper
Four 5 oz (150 g) tuna steaks, 1-inch (2.5-cm) thick
4 cups (1 L) washed lettuce leaves
1. Place the anchovy fillets, garlic, lemon and red wine vinegar in a food processor. Process until blended. With the motor running, gradually add the olive oil. Pour the mixture into a small bowl and stir in the shallot, capers, parsley and thyme leaves. Season with salt and pepper. You will have about ¾ cup (175 mL) dressing.

2. Pour ¼ cup (50 mL) dressing over tuna steaks, turn to coat and then cover. Leave them to marinate for 30 minutes, turning once.

3. Preheat the grill to high. When hot, brush the grill with oil. Remove the tuna steaks from the marinade and place on the grill. Grill 2 to 3 minutes per side for rare and 4 to 6 minutes for medium.

4. Transfer the steaks to a cutting board, cover with aluminum foil and let rest for 5 minutes. Toss the washed lettuce leaves with the remaining dressing and place on a large platter. Slice the tuna and arrange on top.
SHARE