Tuna Niçoise with Shiso Vinaigrette
Summer 2014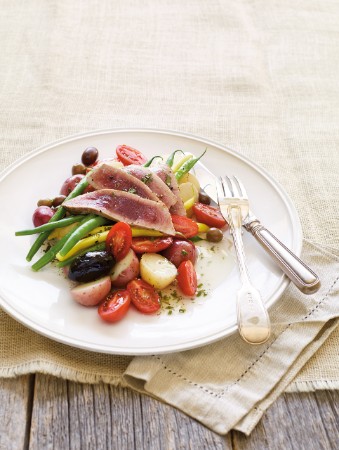 Tuna Niçoise with Shiso Vinaigrette
Summer 2014
BY: Victoria Walsh
This modern take on a classic Niçoise salad is dressed with a drizzle of shiso vinaigrette, which adds delicious, punchy flavour. Find fresh shiso leaves at Asian grocery or Japanese specialty stores. Don't fret if you can't get your hands on some, as fresh mint leaves make a great substitute.
¾ lb (375 g) fresh tuna steak
1 lb (500 g) red or white baby potatoes, or a mix
½ lb (250 g) string beans, such as green, yellow, white, purple or fresh and tender speckled or a mix, blanched
1 cup (250 mL) grape tomatoes, cut in half
1 cup (250 mL) olives, preferably a mix
¼ cup (60 mL) white wine vinegar
½ tsp (2 mL) granulated sugar
⅛ tsp (0.5 mL) salt and pepper
¼ cup (60 mL) vegetable oil
2 fresh shiso leaves
1 Let tuna stand for 15 to 20 minutes just until room temperature.

2 Place potatoes in a large pot. Cover with water. Bring to a boil over high heat. Boil for 15 minutes until fork-tender. Drain and cool. Slice in half.

3 Arrange green beans, potatoes, tomatoes and olives over plates or a platter.

4 In a medium bowl, whisk vinegar with sugar, salt and pepper. Slowly whisk in oil. Finely chop shiso and stir in until evenly mixed. Set aside until ready to use. If making ahead, prepare vinaigrette and add shiso at the last minute.

5 Coat a large frying pan with oil and set over high heat. When hot, add tuna. Cook for about 1 minute per side until golden on each side but still pink inside. Season with salt and pepper. Let stand for 3 minutes. Thinly slice. Arrange over prepared ingredients. Drizzle with shiso dressing. Serve immediately.
SHARE