Trout Poached with Fennel
Spring 2006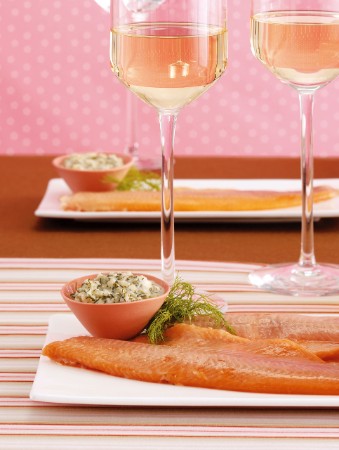 Trout Poached with Fennel
Spring 2006
BY: Lucy Waverman
A simple, delicious dish, perfect for lunch or as a first course at dinner. Leave the head on for poaching and remove before serving. When the eye turns a milky white colour the fish is ready.
1 cup (250 mL) thinly sliced fennel
2 trout, cleaned with centre bone removed
Salt and freshly ground pepper
½ cup (125 mL) chopped onion
2 tbsp (25 mL) chopped parsley
1 cup (250 mL) watercress leaves
1 tsp (5 mL) fennel seeds
2 tsp (10 mL) grated orange rind
1 cup (250 mL) approx., white wine.
¼ cup (50 mL) mayonnaise
1. Scatter fennel on the bottom of an oval baking dish. Place trout on top of fennel. Season inside of trout with salt and pepper. Arrange onion, parsley, watercress leaves and fennel seeds around trout and inside the cavity. Sprinkle with orange rind.

2. Pour in enough wine until it comes part way up (how far up will depend on the size of your dish).

3. Preheat oven to 350ºF (180ºC).

4. Cover dish with foil and place in oven to poach, for 15 to 20 minutes or until trout is cooked but still slightly pink.

5. Leave trout to cool in liquid. Remove fish and fennel from dish and reserve. Pour ¼ cup (50 mL) cooking liquid into a food processor along with the all the solids in the baking dish. Add mayonnaise and process until well combined. Season with salt and pepper to taste.

6. Remove skin from fillets and serve 1 fillet per person with sauce on the side or coating the fillet.
SHARE