Tri-Tip with Crisp Wonton & Carrot-Mango Slaw
Hiver 2013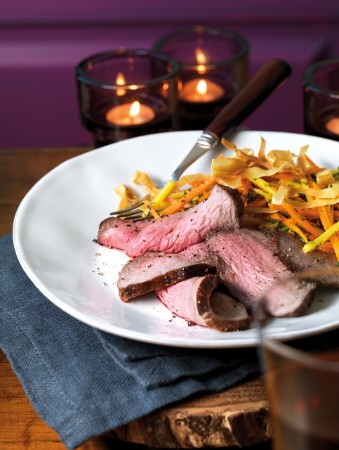 Tri-Tip with Crisp Wonton & Carrot-Mango Slaw
Hiver 2013
BY: Emily Richards
An Asian-inspired marinade is a perfect match with the carrot and mango slaw. Look for this cut in smaller grocers and butcher shops or ask for it where you purchase your meat. Ketchup manis (also spelled kecap or ketjap on the bottle) is a sweet Indonesian soy-based sauce which contains no tomatoes. It is available in the international section of grocery stores.
3 tbsp (45 mL) ketchup manis
2 tbsp (30 mL) sesame oil
2 tbsp (30 mL) lime juice
2 large cloves garlic, minced
1 tbsp (15 mL) minced ginger
¼ tsp (1 mL) each salt and pepper
1 tri-tip beef steak or sirloin tip roast, about 2 lbs (1 kg)
10 wonton wrappers
1 tbsp (15 mL) canola oil

CARROT-MANGO SLAW
2 carrots, julienned
1 mango, julienned
¼ cup (60 mL) chopped fresh mint
2 tbsp (30 mL) chopped fresh coriander
1 clove garlic, minced
2 tbsp (30 mL) rice vinegar
1 tbsp (15 mL) canola oil
¼ tsp (1 mL) salt
Pinch freshly ground black pepper
1 Stir together ketchup manis, oil, lime juice, garlic, ginger, salt and pepper. Place steak in marinade and turn to coat. Wrap and refrigerate for at least 1 hour or for up to 24 hours.

2 Heat oven to 400°F (200°C).

3 Slice wonton wrappers into thin strips and toss with oil. Place on parchment-paper lined baking sheet and toast in oven for about 8 minutes or until golden brown and crisp; set aside.

4 Raise temperature in oven to 450°F (230°C).

5 Place roast on rack in roasting pan and place in oven for 10 minutes. Reduce heat to 275°F (140°C) and cook for about 1½ hours or until meat thermometer reaches 145°F (63°C) for medium-rare. Remove from oven; cover loosely and let stand 10 minutes before slicing thinly.

6 To make slaw, in a large bowl, combine carrots, mango, mint, coriander and garlic. Drizzle with vinegar and oil. Add salt and pepper and toss to combine well. Sprinkle with crisp wontons. Serve with sliced steak.
SHARE