Tri Tip Steak
Spring 2006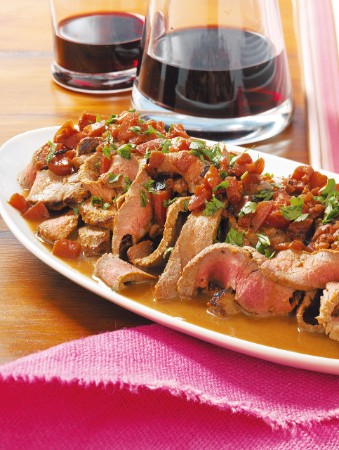 Tri Tip Steak
Spring 2006
BY: Lucy Waverman
Americans love tri-tip as it is a flavourful, juicy steak. It is less known in Canada but butchers and cooks are now discovering it. Tri-tip is the tail end of the sirloin tip. It is triangle-shaped and can either be cut into steaks or grilled as a whole piece. This is an excellent grilled steak. If you want to grill it, use medium-high heat and grill about for about 6 minutes a side for medium-rare (depends on the thickness of the steak). If it is too cold to grill the method used, here is another way to produce a fine result. If you can't find tri-tip, a piece of top sirloin (not New York) will do nicely.
¼ cup (50 mL) Dijon mustard
2 tbsp (25 mL) soy sauce
2 tsp (10 mL) chopped garlic
¼ cup (50 mL) olive oil
3 lbs (1.5 kg) tri-tip or sirloin steaks
Freshly ground pepper
Kosher salt to taste

Sauce
I cup (250 mL) red wine
2 tbsp (25 mL) balsamic vinegar
¼ cup (50 mL) chopped shallots
6 peppercorns
½ cup (125 mL) chopped peeled plum tomatoes
½ cup (125 mL) butter cut into small pieces
1. Combine mustard, soy sauce, garlic and 3 tbsp (45 mL) olive oil and spread over steak. Marinate for several hours or up to 12 hours in the refrigerator.

2. Preheat oven to 450ºF (230ºC).

3. Heat remaining 1 tbsp (15 mL) oil in skillet over medium-high heat. Sprinkle steak with pepper and salt. Place in skillet and brown each side until golden, about 3 minutes a side. Remove from skillet and place on a baking sheet and bake for 12 minutes or until medium-rare.

4. Remove from heat and let sit for 5 minutes. Slice into thin slices against the grain.

5. Using the same skillet that the steak was seared in, combine red wine, balsamic, shallots and peppercorns. Bring to boil on high heat and reduce until about 2 tbsp (25 mL) remains. Add chopped tomatoes to pan and turn heat to low. Cook for 2 minutes or until tomatoes are softened. Whisk in butter. Spoon over each steak serving.
SHARE