Traditional Fried Fish
Autumn 2002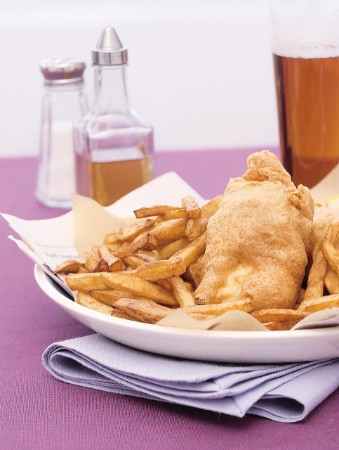 Traditional Fried Fish
Autumn 2002
BY: Lucy Waverman
Use the batter as soon as the baking powder is added to ensure crispness. See tips below.
2 lbs (1 kg) halibut
Vegetable oil for deep frying
1 cup (250 mL) cold water
2 tbsp (25 mL) vegetable oil
1 tsp (5 mL) salt
1½ cups (375 mL) all-purpose flour
1 tsp (5 mL) baking powder
Salt and freshly ground pepper
1.Cut fish into approximately 2 x 3-inch (5 x 7.5-cm) pieces.
2. Heat about 2 inches (5 cm) of oil in a wok or deep pot on high heat. Heat to 375°F (190°C) or until a cube of bread browns in 15 seconds.
3. Combine the water, 2 tbsp (25 mL) of oil and salt in a mixing bowl. Gradually whisk in 1 cup (250 mL) flour, reserving remaining 1/2 cup (125 mL). Stir in baking powder immediately prior to using, making sure that it is evenly blended.
4. Season remaining 1/2 cup (125 mL) flour with salt and pepper, and place on a plate. Dredge the fillets in the seasoned flour and dip them, one at a time, in the batter.
5. Drop fillets into the oil, cooking for 4 to 6 minutes, or until puffed and brown and fish is cooked. Drain fillets on paper towels. Serve with chips.

Deep-Frying Tips
If deep-frying is a technique you fear, remember these simple rules:
You don't need vast quantities of oil.
Use a deep pot or a wok filled one-third full of oil.
Balance the wok on a wok ring to prevent tipping.
Fry in small batches to keep the oil at a constant temperature.
Use a slotted spoon or strainer to remove the food and shake over the oil before draining on paper towels.
Well drained and fried at the proper temperature,  food does not absorb much oil.
SHARE